Sweet Wines (9): Very sweet Germany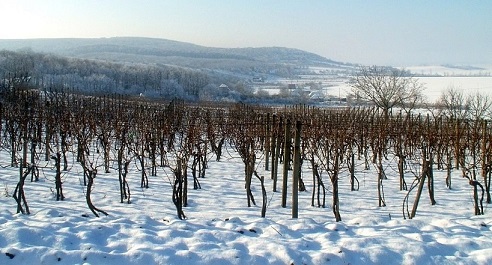 We continue with German Riesling and here emerge ourselves in the blessed worlds of Trockenbeerenauslese (TBA) and Eiswein.
TBA (trocken/dried; beeren/grapes; auslese/harvest) wines are without a doubt the sweetest, densest and amazing in regard to the sensorial potency of all the wines of this category. The category, adored by wine lovers the world over, includes some of the greatest sweet wines on the planet. While less elegant and complex than Eiswein, TBA wines are decidedly bolder and impressive in regard to mouthfeel. The grapes are rigorously picked by hand after they have begun to rot on the vine and been attacked by noble rot. The sugar concentration is evident not only by how syrupy the juice but also by the amplification of all the organoleptic characteristics.
Eiswein (Ice Wine), on the other hand, is not a passito straw wine for which the grapes have been dried, it is simply wine made from grapes that have naturally frozen on the vine and were picked in the middle of winter. When the water in the grape freezes it concentrates the solutes that remain in the little liquid left but did not freeze because of the concentration of solutes. This means that the sugar residue has become super concentrated. After the grapes have been picked by hand, they are pressed softly and the juice made into wine. The result are masterpieces of elegance and complexity, not as sweet or bold as TBA but decidedly more balanced and complex.
Gli Eiswein, invece, non sono vini passiti. Sono semplicemente vini le cui uve sono "congelate" dal freddo naturale, per cui vendemmiate in pieno inverno. L'acqua, ghiacciando, concentra i soluti nel poco liquido rimasto negli acini, che non ghiaccia proprio per una concentrazione indotta dei soluti. Questi acini congelati con il poco liquido residuo super concentrato, una volta raccolti a mano, vengono ammostati sofficemente e vinificati. Ne escono capolavori di eleganza e complessità, non potenti e zuccherini come i TBA ma decisamente più equilibrati e cesellati.
Related Products
Product
Producer
Date of publication
Author
Read
Eitelsbacher Karthaeuserhofberg riesling trockenbeerenauslese nr 54 2011
Mosel Riesling Trockenbeerenauslese
Karthäuserhof
05/31/16
Vinogodi
This is decidedly more lithe, if one could use that word for a wine that has a sugar residue of over 270g/liter, and the impact of the mouthfeel is agile despite being so bold. The wine has a very...
Leggi tutto
Forster Ungeheuer Riesling Trockenbeerenauslese 2007
Pfalz Riesling Trockenbeerenauslese
Georg Mosbacher
05/31/16
Vinogodi
Very rich and corpulent, a significant complexity made this quite a surprise. One usually approaches a Trockenbeerenauslese (TBA) with some trepidation but in this case the wine puts you at easy with...
Leggi tutto
Wehlener Sonnenhur Riesling Trockenbeerenauslese 2009
Riesling Trockenbeerenauslese
Kerpen
05/31/16
Vinogodi
A decidedly bold and expressive wine difficult to pair with any food. The texture is incredibly sticky and the bold, golden color has almost browned. The bouquet bursts with notes of oriental spice,...
Leggi tutto
Niederhäuser Hermannshöhle Riesling Trockenbeerenauslese 2010
Nahe Riesling Trockenbeerenauslese
Dönnhoff
05/31/16
Vinogodi
This small jewel will bring a tear to your eye when you think what it could become with age. It has a relatively clear, golden-yellow color and is amazingly sticky. The bouquet is so explosive it is...
Leggi tutto
Oberhäuser Brücke Riesling Eiswein 2011
Nahe Riesling Eiswein
Dönnhoff
06/02/16
Vinogodi
Absolutely splendid and here again balance and elegance dominate. You can tell how refined this is by just pouring it into a glass with its apparently icy yet distinctly thick texture. The splendid...
Leggi tutto
Wehlener Sonnenuhr Eiswein 1998
Riesling Eiswein
Joh. Jos. Prüm
12/06/17
Vinogodi
The bold and luminous golden color is impressive for the density of its texture and not just its color. The aromas are extremely precise and decidedly lean towards yellow fruit jam and gelatin with a...
Leggi tutto
Scharzhofberger 1998
Mosel Riesling Eiswein
Egon Müller Scharzhof
06/02/16
Vinogodi
There is a reason why this is considered to be a legend in the glass. It has a wonderful, golden color and while the texture is dense, it is not oily when going into the glass. The originality of the...
Leggi tutto
Karthaeuserhof

11/15/11
Redazione

Kerpen

05/30/16
Redazione

Dönnhoff

11/15/11
Redazione

Georg Mosbacher

05/31/16
Redazione

Joh. Jos. Prüm

01/25/16
Redazione

Egon Müller Scharzhof

11/15/11
Redazione
Related Articles
| | | | | | |
| --- | --- | --- | --- | --- | --- |
| | More than just dessert wines | 04/10/2017 | Vinogodi | Wine Community / Vinogodi | |
| | Sweet wines (1): Southern Italy | 11/10/2017 | Vinogodi | Wine Community / Vinogodi | |
| | Sweet wines (2): Central Italy | 18/10/2017 | Vinogodi | Wine Community / Vinogodi | |
| | Sweet Wines (3): Northern Italy | 25/10/2017 | Vinogodi | Wine Community / Vinogodi | |
| | Sweet Wines (4): The 'other' France | 01/11/2017 | Vinogodi | Wine Community / Vinogodi | |
| | Sweet wines (5): Sauternes and Barsac | 08/11/2017 | Vinogodi | Wine Community / Vinogodi | |
| | Sweet Wines (6): Alsace | 15/11/2017 | Vinogodi | Wine Community / Vinogodi | |
| | Sweet Wines (7): Germany, Spätlese and Auslese | 22/11/2017 | Vinogodi | Wine Community / Vinogodi | |
| | Sweet Wines (8): Very sweet Germany #1 | 29/11/2017 | Vinogodi | Wine Community / Vinogodi | |
| | Sweet Wines (10): Tokaji | 13/12/2017 | Vinogodi | Wine Community / Vinogodi | |
| | Sweet wines (11): Port plus an intruder | 21/12/2017 | Vinogodi | Wine Community / Vinogodi | |