Sweet Wines (7): Germany, Spätlese and Auslese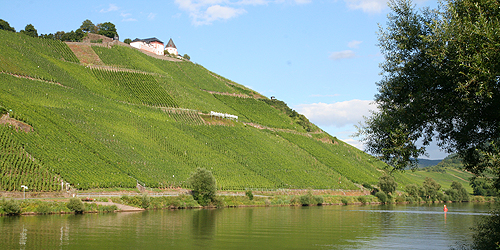 Here we enter a world of its own, Germany and its Riesling, starting with the wines that appear to be simpler, the late harvest (Spätlese) and select wines (Auslese).
For 'hard-core' wine lovers, Germany is the classic sensorial finish line. It is the undisputed homeland of the Riesling grape and winemaking methods developed over the centuries which, together with the great technical skill of local producers and a perhaps unique microclimate, have resulted in wines that are absolutely exclusive and unrepeatable. For many, the sweet wines produced in this blessed land are the best in the world.
The acidity of the Riesling in Germany is perhaps the most incisive in the world and so what in Germany they call 'dry' is, in reality, 'semi-sweet' because the sugar residue is necessary to balance a frightening acidity that, in turn, maintains the freshness and drinkability in wines with a frightening sweetness.
In this first part we look at wines that are 'simply' sweet according to official classifications, the Spätlese (Late Harvest) and Auslese (Select, with just the start of Botrytis cinerea).
Related Products
Product
Producer
Date of publication
Author
Read
Wehlener Sonnenuhr Spätlese 2009
Riesling Spätlese
Joh. Jos. Prüm
11/22/17
Vinogodi
Made from Riesling grapes. The color, while pale, has golden reflections that are slightly bolder than the other wines here and the aromas are more intense, even though they remain those typical to...
Leggi tutto
Scharzhofberger Spätlese 2006
Riesling Spätlese
Egon Müller Scharzhof
05/03/16
Vinogodi
100% Riesling grapes. Outstanding. The wines of this formidable producer are unique and true works of art that are sought after by wine lovers around the world. This has a golden, luminous and deep...
Leggi tutto
Longuicher Maximiner Herrenberg Riesling Spätlese 1979
Riesling Spätlese
Carl Schmitt-Wagner
11/22/17
Vinogodi
Made from Riesling grapes. This wine is amazing just to watch as it is poured into a glass with its golden-yellow color that is still fully intact. The same is true of the aroma with its epic notes...
Leggi tutto
Graacher Domprobst Riesling Auslese 2013
Riesling Auslese
Willi Schaefer
05/10/16
Vinogodi
100% Riesling grapes. The color is a very pale, almost paper-yellow and the nose an array of top and unusually intense aromas. The extreme mineral sensations recall hydrocarbons that accompany notes...
Leggi tutto
Scharzhofberger Auslese 2006
Mosel Riesling Auslese
Egon Müller Scharzhof
05/10/16
Vinogodi
100% Riesling grapes. An authentic organoleptic phenomenon that should be studied in wine schools or reserved for die-hard wine lovers. Its relatively bold yellow color has an unusual density and the...
Leggi tutto
Ürziger Würzgarten Riesling Auslese 1976
Riesling Auslese
Benedict Loosen Erben
11/22/17
Vinogodi
Made from Riesling grapes. As I have said before, drinking an old Riesling is a truly unique experience because of the way the wine changes with an infinite number of extraordinary sensations. This...
Leggi tutto
Longuicher Maximiner Herremberg Auslese 1959
Riesling Auslese
Carl Schmitt-Wagner
11/22/17
Vinogodi
Made from Riesling grapes. This is so intact that it is an almost esoteric paradox considering it is an almost 60-year-old white wine but still has a bold, straw-yellow with only a few golden...
Leggi tutto
Joh. Jos. Prüm

01/25/16
Redazione

Egon Müller Scharzhof

11/15/11
Redazione

Carl Schmitt-Wagner

04/20/16
Redazione

Willi Schaefer

05/09/16
Redazione

Benedict Loosen Erben

05/09/16
Redazione
Related Articles
| | | | | | |
| --- | --- | --- | --- | --- | --- |
| | More than just dessert wines | 04/10/2017 | Vinogodi | Wine Community / Vinogodi | |
| | Sweet wines (2): Central Italy | 18/10/2017 | Vinogodi | Wine Community / Vinogodi | |
| | Sweet Wines (3): Northern Italy | 25/10/2017 | Vinogodi | Wine Community / Vinogodi | |
| | Sweet Wines (4): The 'other' France | 01/11/2017 | Vinogodi | Wine Community / Vinogodi | |
| | Sweet wines (5): Sauternes and Barsac | 08/11/2017 | Vinogodi | Wine Community / Vinogodi | |
| | Sweet wines (11): Port plus an intruder | 21/12/2017 | Vinogodi | Wine Community / Vinogodi | |