Sweet Wines (6): Alsace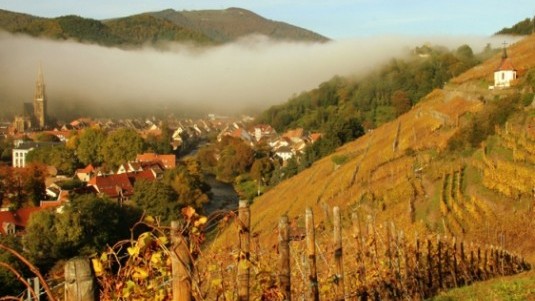 In this historically and traditionally Franco-German region it is hard to choose between a Riesling or a Pinot Gris. But no matter what one's tastes may be, for those who love sweet wine Alsace is a must.
The unique characteristics of its wines make Alsace is one of the most famous and sought after regions for those who love sweet wines. It is a relatively small strip of territory in eastern France on the border with Germany, which in the past controlled this area and where German is still spoken and is used for the names of its wines, similar to the situation in Alto Adige-Südtirol.
The region is for the most part known for its white wines, made primarily from Riesling, Pinot Blanc and Pinot Grigio, except for a Pinot Noir which is practically the only red varietal cultivated. The particular climate here allows the grape to ripen to the extreme, permitting late harvest wines, and the frequent attack of Noble Rot in the autumn produces grapes that are best suited to produce some of the world's greatest sweet wines.
The following selection is not definitive but certainly yummy.
Related Products
Product
Producer
Date of publication
Author
Read
Riesling Schlossberg Vendanges Tardives 2001
Alsazia Grand Cru
Domaine Weinbach
05/10/16
Vinogodi
Pure power, an iron fist in a velvet glove. The color is a luminous yellow and the aroma alternates between scents of yellow fruit, citron, avocado and lime followed by lots of spice, cinnamon and...
Leggi tutto
Herrenweg de Turckheim Vieilles Vignes 2008
Alsace Sélection de Grains Nobles
Domaine Zind Humbrecht
11/14/17
Vinogodi
Made from Gewürztraminer grapes selected from the oldest vineyards, this wine has a bold, high-density and splendidly luminous color. The aromas are intense and assorted with notes of...
Leggi tutto
Tokay-Pinot Gris Sélection de Grains Nobles 1997
Alsace Sélection de Grains Nobles
Domaine Allimant-Laugner
11/15/17
Vinogodi
Pinot Grigio grapes are used for this wine that has an intense, golden color and dirge of subtle and aromatic scents with intriguing notes of acacia honey, white peach jam and chamomile. The...
Leggi tutto
Rotemberg Wintzenheim 2005
Alsace Sélection de Grains Nobles
Domaine Zind Humbrecht
11/15/17
Vinogodi
Pinot Grigio grapes and a bold, golden-yellow color that is dense both for its chromatic and physical compactness. The intense bouquet has scents of apricot, cinnamon and candied citron peel. In the...
Leggi tutto
Selection de Grains Nobles 2003
Alsace Pinot Gris Selection de Grains Nobles
Deiss
11/05/17
Vinogodi
Made from Pinot Grigio, the wine has a luminous color with a nice density as it is blissfully poured into the glass. The bouquet has an incredible and original array of aromas that include ginger,...
Leggi tutto
Schlossberg 1998
Alsace Pinot Gris Selection de Grains Nobles
Domaine Weinbach
11/15/17
Vinogodi
A Pinot Grigio with a splendid, golden-yellow color that remains perfectly intact despite being 20 years old. The aromatic spectrum is wonderful with notes that range from yellow plum jam to candied...
Leggi tutto
Clos Jebsal Trie Speciale 2006
Alsace Pinot Gris Selection de Grains Nobles
Domaine Zind Humbrecht
11/15/17
Vinogodi
Made from a top selection of the best Pinot Grigio grapes, the wine stands out with its intense yellow color and, above all, its almost oily and very dense consistency. The bouquet is an explosion of...
Leggi tutto
Clos St. Urbain Rangen de Thann 1998
Alsace Riesling Selections de Grains Nobles
Domaine Zind Humbrecht
05/31/16
Vinogodi
The wine has a bold amber-yellow color and an oily texture. The aroma unleashes extraordinary notes of spice and medicinal herbs, wildflower honey and artisanal panettone cake. If at all possible,...
Leggi tutto
Domaine Weinbach

11/16/11
Redazione

Domaine Zind Humbrecht

02/02/16
Redazione

Domaine Allimant-Laugner

11/14/17
Redazione

Deiss

11/16/11
Redazione
Related Articles
| | | | | | |
| --- | --- | --- | --- | --- | --- |
| | More than just dessert wines | 04/10/2017 | Vinogodi | Wine Community / Vinogodi | |
| | Sweet wines (1): Southern Italy | 11/10/2017 | Vinogodi | Wine Community / Vinogodi | |
| | Sweet wines (2): Central Italy | 18/10/2017 | Vinogodi | Wine Community / Vinogodi | |
| | Sweet Wines (3): Northern Italy | 25/10/2017 | Vinogodi | Wine Community / Vinogodi | |
| | Sweet Wines (4): The 'other' France | 01/11/2017 | Vinogodi | Wine Community / Vinogodi | |
| | Sweet wines (5): Sauternes and Barsac | 08/11/2017 | Vinogodi | Wine Community / Vinogodi | |
| | Sweet Wines (7): Germany, Spätlese and Auslese | 22/11/2017 | Vinogodi | Wine Community / Vinogodi | |
| | Sweet Wines (8): Very sweet Germany #1 | 29/11/2017 | Vinogodi | Wine Community / Vinogodi | |
| | Sweet Wines (9): Very sweet Germany | 06/12/2017 | Vinogodi | Wine Community / Vinogodi | |
| | Sweet Wines (10): Tokaji | 13/12/2017 | Vinogodi | Wine Community / Vinogodi | |
| | Sweet wines (11): Port plus an intruder | 21/12/2017 | Vinogodi | Wine Community / Vinogodi | |