Sweet Wines (10): Tokaji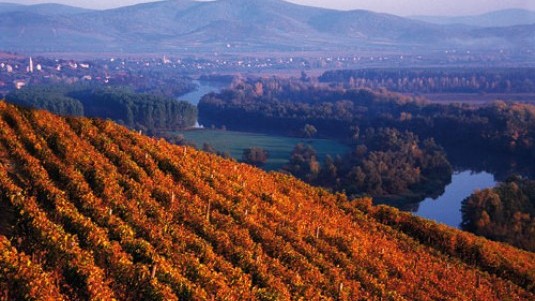 Our long tour dedicated to the world's best sweet wines is nearing the end and here we stop in Hungary, home of the formidable Tokaji.
We start off with Hungarian wines made primarily from Furmint grapes, the celebrated Tokaji with their great capacity to create an emotional experience and offer authentic sensorial explosions. These are ancient wines with hundreds of years of history that have unique and unrepeatable characteristics. The top wines in their category (from Aszu 6 Puttonyos to Eszeniica) have a very high concentration of sugar and a low alcohol content (in some case only a few percentage points) that is held down by the effect the abnormal sugar concentration has on the microorganisms during fermentation. The final result is a 'syrup' with bold, explosive and incredible sensorial characteristics.
Editor's note: The name Tokaji in Hungarian means "from Tokaj", which is the name of the city that lends its name to the area of production – Tokaj-Hegyalja – in eastern Hungary, at the feet of the Carpathian Mountains. The grapes used to make the wine are Furmint, Hàrslevelu and Sàrgamuskotàly. The wine Aszú – which means dried grapes - is made with grapes that have contracted botrytis and were picked at different times. These grapes are crushed into a mash and then placed in containers called puttonyos that hold some 25kg. The wine made from grapes that have not contracted noble rot can have an addition of up to six puttonyos per 136 liters. The greater the number of puttonyos added, the sweeter the final product is.
Related Products
Product
Producer
Date of publication
Author
Read
Tokaji Aszù 3 Puttonyos 1963
_
Állami
12/13/17
Vinogodi
An amber color and only a discreet viscosity. The bouquet has scents of walnut infusion, raisins and moss with a lovely vegetal note in the background. Everything comes together in an original,...
Leggi tutto
Tokaji Aszù 5 Puttonyos 1996
_
Hétszölö
12/13/17
Vinogodi
A bold golden color with amber reflections and a very thick texture as it is poured into the glass. The rich aroma has notes of acacia honey, confit, pickled melon and distinct hints of medicinal...
Leggi tutto
Tokaji Aszù 6 Puttonyos 1996
_
Szepsy
12/13/17
Vinogodi
A bold, lucent golden color with a splendid density and sumptuous texture. The attack of the aroma is incredibly citrus, bold and intense and is then followed by notes of exotic fruit jam, balsamic...
Leggi tutto
Aszù Essencia 1995
_
Royal Tokaji
12/13/17
Vinogodi
The density and color are comparable to the previous wine but the bouquet is less explosive and initially more reluctant but it comes out after breathing long which also eliminates any initial...
Leggi tutto
Oremus Tokaji Eszencia 2000
_
Tokaj Oremus
12/13/17
Vinogodi
A bold golden color with distinct amber reflections with aromas as intense as they can possibly be for this winemaking masterpiece with its clear notes of caramel, cookies and rhubarb. The mouthfeel...
Leggi tutto
Tokaji Eszentia 1999
_
Disznókő
12/13/17
Vinogodi
A dark amber color and threatening just to look at because it is so syrupy and oily. In fact, the wine is so abnormally concentrated it struggles to come out of the bottle. The aroma explodes with...
Leggi tutto
Állami

12/12/17
Redazione

Hétszölö

12/12/17
Redazione

Szepsy

12/12/17
Redazione

Royal Tokaji

12/12/17
Redazione

Tokaj Oremus

01/30/18
Redazione Grafica

Disznókő

12/12/17
Redazione
Related Articles
| | | | | | |
| --- | --- | --- | --- | --- | --- |
| | More than just dessert wines | 04/10/2017 | Vinogodi | Wine Community / Vinogodi | |
| | Sweet wines (1): Southern Italy | 11/10/2017 | Vinogodi | Wine Community / Vinogodi | |
| | Sweet wines (2): Central Italy | 18/10/2017 | Vinogodi | Wine Community / Vinogodi | |
| | Sweet Wines (3): Northern Italy | 25/10/2017 | Vinogodi | Wine Community / Vinogodi | |
| | Sweet Wines (4): The 'other' France | 01/11/2017 | Vinogodi | Wine Community / Vinogodi | |
| | Sweet wines (5): Sauternes and Barsac | 08/11/2017 | Vinogodi | Wine Community / Vinogodi | |
| | Sweet Wines (6): Alsace | 15/11/2017 | Vinogodi | Wine Community / Vinogodi | |
| | Sweet Wines (7): Germany, Spätlese and Auslese | 22/11/2017 | Vinogodi | Wine Community / Vinogodi | |
| | Sweet Wines (8): Very sweet Germany #1 | 29/11/2017 | Vinogodi | Wine Community / Vinogodi | |
| | Sweet Wines (9): Very sweet Germany | 06/12/2017 | Vinogodi | Wine Community / Vinogodi | |
| | Sweet wines (11): Port plus an intruder | 21/12/2017 | Vinogodi | Wine Community / Vinogodi | |