Felici, a library of Verdicchio (2)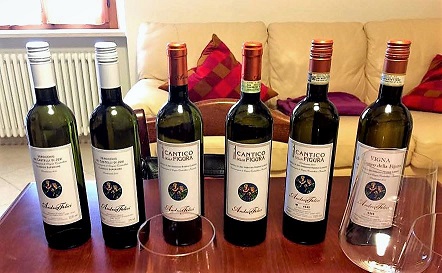 In the first part of our interview (published yesterday LINK), Leopardo Felici in a slightly polemic way called for changes to regulations governing the production of Verdcchio dei Castelli di Jesi including the creation of a quality pyramid that would allow producers to market their best wines at a higher price in order to then invest the proceeds in the vineyard and the winery.
DoctorWine: Your Superiore and Riserva Verdicchio seem less stuffy than in the past, while still remaining technically above board.
Leopardo Felici: Up until 2008 we used cryomaceration, which was perfect to exalt the varietal's initial notes. Then with our enologist Aroldo Bellelli we changed and opted for fermenting with a small percentage of the skins.
DW: An old fashioned Verdicchio made using new technology.
LF: You could say that. In this way the wine does not get heavy in regard to color, aroma or flavor, while at the same time the grape's territorial notes are exalted, the almond and anise sensations. Verdicchio's aromas are only from the skin and eliminating them would be a contradiction if, as in our case, the principle aim is to express the varietal and the territory.
Our vertical tasting was in actual fact and reverse one of two wines: Verdicchio dei Castelli di Jesi Classico Superiore Andrea Felici and Castelli di Jesi Riserva Vigna Il Cantico della Figura. Both were fermented with a small percentage of the skins, the first for a brief time and the second for two weeks. The Classico Superiore is a cuvée of the estate's vineyards that ages in stainless steel, while the Riserva is made with grapes from the estate's best vineyard, San Francesco with its 50-year-old vines, and ages in cement vats.
Related Products
Product
Producer
Date of publication
Author
Read
Verdicchio dei Castelli di Jesi Classico Superiore 2015
Verdicchio dei Castelli di Jesi Classico Superiore
Andrea Felici
04/12/17
Francesco Annibali
A very bright, greenish, straw-yellow color and a bouquet of citron, green almond and thyme. The mouthfeel has a broad attack with citrus and faint tannins (typical to many 2015 Verdicchio) at the...
Leggi tutto
Verdicchio dei Castelli di Jesi Classico Superiore 2014
Verdicchio dei Castelli di Jesi Classico Superiore
Andrea Felici
04/12/17
Francesco Annibali
This had a color identical to the 2015 but with different aromas and a bouquet that opens slowly and is a tad less pure. There are clear notes of aromatic herbs (thyme) and iodine but less almond...
Leggi tutto
Il Cantico della Figura 2013
Castelli di Jesi Verdicchio Riserva Classico
Andrea Felici
04/12/17
Francesco Annibali
Vintage 2013 was, in our view, a milestone year for Verdicchio that playes on its acidity. While it is true that this was not a great year for wines focused on volume and warmth– even the more...
Leggi tutto
Il Cantico della Figura 2012
Verdicchio dei Castelli di Jesi Classico Superiore
Andrea Felici
04/12/17
Francesco Annibali
A luminous, straw-yellow color with very classic, almost smoky aromas (toasted almonds), floral notes and mustard nuances. The mouthfeel is savory yet dry with a broad and almondy finish, all in the...
Leggi tutto
Il Cantico della Figura 2011
Verdicchio di Castelli di Jesi
Andrea Felici
04/12/17
Francesco Annibali
Similar to the 2012 but less detailed in the aroma and less marked to the mouth. The color is a luminous, straw-yellow with golden reflections and the bouquet has clear scents of almond and anise....
Leggi tutto
Il Cantico della Figura 2010
Verdicchio dei Castelli di Jesi Classico Superiore
Andrea Felici
04/12/17
Francesco Annibali
If you want to know what the 2013 Riserva will be like in a few years, then taste this very great wine. It is a masterpiece of the varietal's nuances and expressions, austere and detailed in its...
Leggi tutto
Related Articles