Felici, a library of Verdicchio (1)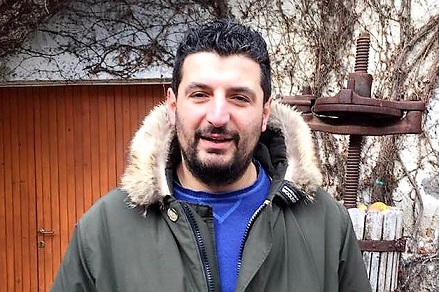 The first time I professionally tasted a Verdicchio dei Castelli di Jesi from Felici I immediately unwrapped the foil wrapping that distinguishes their bottles to make sure that I hadn't mistakenly included a Verdicchio di Matelica in the selection of Verdicchio dei Castelli di Jesi. This was back in 2008 or 2009 and the wine in question was a Riserva 2006, which was citrusy and responsive.
At the time, the name of Andrea Felici was new even to those in the wine sector but in less than five years he became a small, cult winemaker.
Working with his son Leopardo, who is better known to wine lovers because he handles public and press relations, Andrea is a small summation of a Marche farmer: polite but reserved and totally dedicated to his work and his vines.
"The work never ends", Leopardo tells me in the cellar. He became a successful winemaker after working at Enoteca Pinchiorri in Florence and the unfortunately empty bottles in the cellar of Petrus and Chambertin from Leroy are evidence of his passion and his past.
The estate is in the countryside between Apiro, a tiny town if Castelli di Jesi, and the celebrated Cupramontana, at the feet of Mt San Vicino, in the extreme south and at the same time the highest area of the appellation along with Arcevia. Here the vineyards are situated at altitudes of between 400 and 600m above sea level and have more chalk than average in the appellation.
We met in the middle of winter, January 31, a few days after it had snowed.
"There wasn't much snow this time, last week we had almost a meter. The snow will be good in view of any summer drought, like the one in the summer of 2012 when the vines survived thanks to the exceptional snowfall the previous winter which created an ample reserve of water in the soil and subsoil".
The Verdicchio from Aprio is the product of a meteorological mix between the almost mountain climate, given the proximity of Mt San Vicino, and a Mediterranean one from the sea 35km away between which there are no hills to block the breezes, only the Esino Valley.
This combination contributes to create fresh and citrusy wines that are practically identical to the more vibrant ones of Matelica (like Borgo Paglinetto and Belisario made in steel) only drier, more almondy and less citrusy.
The Apiro wine from Andrea and Leopardo Felici is made from vineyards they own and which have different rootstocks depending on the wine they want to make. The estate also has a vineyard with selected clones planted over the years and which constitute a kind of Verdicchio 'library' where different clones survive that have been abandoned elsewhere. This initiative is potentially very important for an area where the Rauscendo R2 clone dominates almost unchallenged. However, the area is in good health and has a special place in the hearts of wine lovers throughout Italy.
"But we still have problems today, starting with hail," Leopardo tells me.
DoctorWine: In what sense?
Leopardo Felici: We have had it frequently since 2008 and the old timers here say it was never this bad in the past.
DW: Do you have an explanation for this? Could it be global warming?
LF: More than anything else we think it all has to do with the creation of the Lake Cingoli reservoir nearby which created a more humid microclimate than before.
DW: Nevertheless, you don't have much to complain about considering the popularity Verdicchio is having and yours is especially appreciated by wine lovers.
LF: True but we all still have a lot of work to do. Regulations governing wine production need to be modified and made more elastic in some ways and stricter in others. For example, it should be obligatory to pick grapes by hand for the select wines. And then there are other things.
DW: Such as?
LF: A top quality classification is needed, like the Grand Selezione one for Chianti Classico, in order to single out the best Verdicchio. This is something were are working on with Ondine de la Felde of Tenuta di Tavignano (an excellent producer in Cingoli of Verdicchio dei Castelli di Jesi, ed.note). We want to market our best wines at the price they deserve in order to invest in the vineyard and the winery. Isn't that what entrepreneurs are supposed to do?
DW: Maybe Felici could then even begin producing sparkling wines.
LF: Exactly. We are considering this but it would have to be a quality product and making a quality sparkling wine entails hefty investments. And this brings us back to the previous point. We have no interest in coming out with a sparkling wine of average quality just to take advantage of the momentary success these wines are having.
The discussion is an interesting one but we will stop here to continue tomorrow with the second part of our conversation followed by a vertical tasting of the Andrea Felici Verdicchio.