Giulio Ferrari: an unmistakable style and its evolution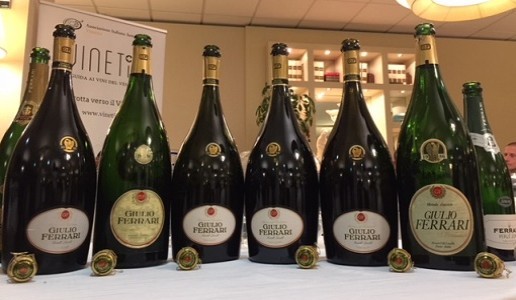 A beautify vertical tasting of Fondatore Giulio Ferrari, a Trentodoc with an elegant personality and an extraordinary capacity to age.
After 32 harvests, Cantine Ferrari's 'Chef des Caves' Ruben Larentis explained his vision and that of one of the wine estates which epitomizes Italian winemaking excellence with a unique vertical tasting of the iconic Riserva del Fondatore Giulio Ferrari. When he spoke everyone listened because this was not just the story of an iconic wine like Riserva del Fondatore but that of a life that has been entirely dedicated to a dream, better yet a project, of the Lunelli family.
Giulio Ferrari was a nursery man who in 1902, after a visit to Champagne, decided to produce a few bottles of bubbly, almost as a hobby. He was obsessed with quality and the quest for perfection and, realizing he had no heirs, decided to cede his estate to Bruno Lunelli, a wine merchant who up to the end helped him realize his vision. This rapport of collaboration and respect – a respect so strong that the Lunelli family never changed the Ferrari name – resulted in one of the most recognized and reputable brands of Italian wine, one that has become top-rate on an international level for its sparkling wine production.
The soul of Trentodoc Ferrari is the terroir and Chardonnay, which in this territory has a natural slowness. Almost 600 families with vineyards that are an average 1.5 hectares in size contribute with their grapes to the uncompromising quality envisioned by Giulio Ferrari and then carried on by Bruno then Mauro, Franco and Gino Lunelli and today by their offspring Marcello, Matteo, Camilla and Alessandro. Over the years, the contribution of the Trentino vignerons has consolidated thanks to a pricing policy for the grapes based on their quality, creating a relationship that is not established by contract but by 'professional' pride and this, in turn, has resulted in a shift to organic viticulture.
Ruben Larentis is the caretaker of the Ferrari style and his mission is to create wines that can express in an unmistakable way the spirit of the land and have a recognizable identity that unites taste, elegance, complexity and even a very long life. The crown jewel of production is Giulio Ferrari Riserva de Fondatore, a wine that Mauro Lunelli had made with the 1972 harvest and then hid to bring out in 1980, after the wine had aged for eight years. "It was clearly inspired by Champagne. Mauro had visited Krug where he tasted vintages from the 1950s and he wanted to see if he could do the same," Ruben told us. The grapes chosen for this project were the Chardonnay from the Maso Pianizza vineyard that had been planted in the 1960s with a southwestern exposure. This to ensure the grapes achieved a maturity capable of producing a wine with a propensity to age long as well as with the acidic backbone that comes from a rocky soil and microclimate found above 500m above sea level.
Ruben's craft is not that of being an alchemist but a 'visionary', because one needs to foresee how long it will take for the wine to fully come into its own and express its essence. "Take it slow, keep it simple and don't cheat": this is how Ferrari wines are made, this is how the excellence of Riserva del Fondatore Giulio Ferrari repeats itself, with a single vineyard each year producing a different and unique vintage, where the common denominator lies in its elegant personality and extraordinary capacity to age.
Related Products
Product
Producer
Date of publication
Author
Read
Giulio Ferrari Riserva del Fondatore 2005
Trentodoc
Cantine Ferrari
12/15/17
Chiara Giovoni
(Harvest between September 10 and 15, bottled in 2006, disgorged in February 2016, dosage 3g/l). A difficult growing season to manage. The harvest was moved up slightly in order to have wines that...
Leggi tutto
Giulio Ferrari Riserva del Fondatore 1994
Trentodoc
Cantine Ferrari
12/15/17
Chiara Giovoni
(Harvest between September 15 and 20, bottled in May 1995, disgorged in January 2016, dosage 4g/l). The product of a hot harvest with the grapes clearly ripening ahead of time even with...
Leggi tutto
Giulio Ferrari Riserva del Fondatore 2000
Trentodoc
Cantine Ferrari
12/15/17
Chiara Giovoni
(Harvest between September 12 and 15, bottled in June 2001, disgorged in January 2016, dosage 3g/l). This was another year in which the quest for lightness was fundamental due to a weather cycle that...
Leggi tutto
Giulio Ferrari Riserva del Fondatore 2004
Trentodoc
Cantine Ferrari
12/15/17
Chiara Giovoni
(Harvest between September 20 and 25, bottled in June 2005, disgorged October 2015, dosage 2.5g/l). This was the first vintage to hit the market as an extra-brut bubbly and is perhaps the most...
Leggi tutto
Giulio Ferrari Riserva del Fondatore 2001
Trentodoc
Cantine Ferrari
12/15/17
Chiara Giovoni
(Harvest between September 20 and 23, bottled in June 2002, disgorged July 2013, dosage 5g/l). A variable growing season with storms but also a nice finale that consolidated itself in August and was...
Leggi tutto
Giulio Ferrari Riserva del Fondatore 1986
Trentodoc
Cantine Ferrari
12/15/17
Chiara Giovoni
(Harvest between September 17 ad 20, bottled in April 1987, disgorged May 2017, dosage 3g/l). A year in which the harvest was anticipated due to abundant rain in April and a hot May while the growing...
Leggi tutto
Cantine Ferrari

01/10/12
Redazione
This is simply the best producer of sparkling wine in Italy. It belongs to the Lunelli family who have transformed it into a true jewel both for the quality of its products and the way they have...
Leggi tutto