Rossese di Dolceacqua Posaù. The Ligurian mountains (2)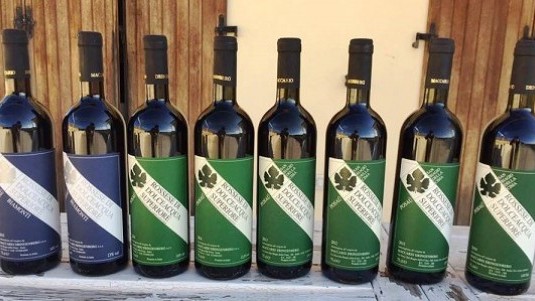 Today we conclude our interview with Giovanna Maccario begun yesterday and then proceed with a vertical tasting of her Rossese di Dolceacqua Posaù wine.
Doctor Wine: What do you think of the new regulations governing Rossese production introduced in 2011 and how has the market responded to them?
Giovanna Maccario: We producers were directly involved in drawing them up and I'm glad we did. We were able to impose that the wine cannot be made and bottled outside our area and thus we avoided the appearance on the market of Rossese that cannot be verified.
DW: There is now also the possibility to put the name of the cru on the label, the so-called additional geographic mention, which has given the wine a very Burgundy-esque image.
GM: The use of the 'mention' lets us put the name of our vineyard on the label and for us this is a good thing. The wines in this area have historically been known by the name of their vineyard, at least when they were good.
DW: Given your courageous winemaking procedure, the richness of the land and the influx of tourists, one would think the wines would cost more.
GM: Given the low yield of the vineyards we could never get rich! Every operation carried out in the vineyard brings with it a high labor cost and for sure we would make more if we were growing flowers. As for tourism, today's tourists are not as wealthy as they used to be, at least those who come to our area. Unfortunately, these two factors never coincide (she laughs).
DW: What are Maccario Dringenberg's principle markets?
GM: A good half our production is sold in Italy and the rest, which should increase, is exported to the United States, Japan, Norway, the Czech Republic and Slovakia, Switzerland and Belgium.
The wines in the following tasting are all made with 95% Rossese grapes and 5% Massarda and age in stainless steel.
Related Products
Product
Producer
Date of publication
Author
Read
Posaú 2015
Rossese di Dolceacqua Superiore
Maccario Dringenberg
02/23/17
Francesco Annibali
The wine has a very lively, purple color of medium intensity while the bouquet is young and has fragrant and wild aromas with notes of white pepper, sage, red currant juice. The mouthfeel has a...
Leggi tutto
Posaú 2014
Rossese di Dolceacqua Superiore
Maccario Dringenberg
02/23/17
Francesco Annibali
This was a good year in Dolceacqua and the 2014 wines have an extra edge. The color is a pale purple-ruby with slightly garnet reflections and the aroma has a distinct personality with a feral-spicy...
Leggi tutto
Posaú 2013
Rossese di Dolceacqua Superiore
Maccario Dringenberg
02/23/17
Francesco Annibali
A cool and gradual growing season produced a wine much appreciated by producers (and consumers). This vintage has a transparent garnet-purple color and a floral-fruity aroma with scents of fruit,...
Leggi tutto
Posaú 2012
Rossese di Dolceacqua Superiore
Maccario Dringenberg
02/23/17
Francesco Annibali
The garnet-purple color here is younger and a little more pronounced than that of the 2013 and the nose is staggered, opening with an almost intoxicating note of white truffle followed by those of...
Leggi tutto
Posaú 2011
Rossese di Dolceacqua Superiore
Maccario Dringenberg
02/23/17
Francesco Annibali
A hot growing season produced a wine that was hard in youth, Giovanni recalled. Today it has a ruby-garnet color with purple reflections giving this vintage a very personal color. The bouquet is slow...
Leggi tutto
Posaú 2010
Rossese di Dolceacqua Superiore
Maccario Dringenberg
02/23/17
Francesco Annibali
A garnet-orange color with violet reflections with an initial Burgundy-esque floral aroma followed by notes of slate, black pepper, dried blue flowers and orange peel. The mouthfeel is broad but not...
Leggi tutto
Posaú Biamonti 2015
Dolceacqua
Maccario Dringenberg
02/23/17
Francesco Annibali
The purple-violet color is quite deep, distinct yet livelier than a 'normal' Posaù. The aroma is full but also more contracted as is the mouthfeel with its notes of roselle. The biggest...
Leggi tutto
Posaú Biamonti 2014
Dolceacqua
Maccario Dringenberg
02/23/17
Francesco Annibali
A distinct, purple-violet color with the bouquet of a 'normal' Posaù only more concentrated and (momentarily) contracted with feral-spicy notes and those of roselle. The mouthfeel is very...
Leggi tutto
Related Articles