Vigna Pedale, another concept for a Puglia red (2)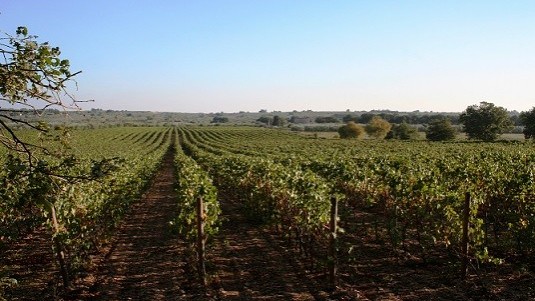 After looking yesterday at the Nero di Troia grape, here we will focus on one of the most representative wines it produces: Castel del Monte Riserva Vigna Pedale from Torrevento. 
There is no doubt that Torrevento was a pioneer in the rebirth or, perhaps better, creation of Nero di Troia as the base grape for quality wine. This varietal is difficult to cultivate and has found its natural habitat in the Murgia hills.
Torrevento is owned by Francesco Liantonio who is a leading figure in the Puglia wine scene as well as the president of Valoritalia, an agency that controls and certifies 70% of Italian wine of designated origin. He has always firmly believed in the potential of Nero di Troia and produces a varietal wine from it called Vigna Pedale, named after the vineyard the grapes are grown in.
DoctorWine: what is Vigna Pedale?
Francesco Liantonio: It is a single-variety vineyard that produces Nero di Troia of the highest potential. Vigna Pedale is also the name of the 50-hectare estate that is shaped like a pedal and has a mostly chalky soil. For us it is our most important vineyard and I believe that in recent years the wine it produces has reached its peak in quality, something verified by it receiving a DOCG classification. This was also a recognition of the uniqueness and success of wines made in this area of Puglia. From a media point of view, it was discovered by your editor-in-chief, Daniele Cernilli.
DW: Tell me something about Nero di Troia.
FL: It is a variety that has a low yield and is difficult to work with even in the winery because of its strong tannins and yet it can produce very great wines. For us it is the epitome of a Murgia red, the way Primitivo and Negroamaro are for Salento.
DW: Speaking of Salento, do you feel that its wines have stolen the stage from all the others in the region in recent years?
FL: Not at all. Salento reds are very different from those of Castel del Monte. We also have vineyards in Salento and it is an area I love very much. Both zones are essential for the growth of the region which has an outstanding potential, especially in regard to red wine.
DW: Torrevento has a large export market. Would you say it is on the same level as southern Italy's leading wine estates?
FL: Yes, I would. We export to Europe and to another 20 countries around the world. But we can do much more.
All the following wines are 100% Nero di Troia, age for eight months in stainless steel vats and then for another 12 months in large barrels.
Torrevento 
Owner : Francesco Liantonio
S.P. 234, km 10,660 (ex S.S. 170)
70033 Corato (BA)
Tel. +39 080 8980923
info@torrevento.it
www.torrevento.it
Facebook : torrevento
Year of foundation : 1920
Total Bottles Produced : 2.500.000
Hectars of vineyards : 450
Related Products
Related Articles