Emilia-Romagna: State of the art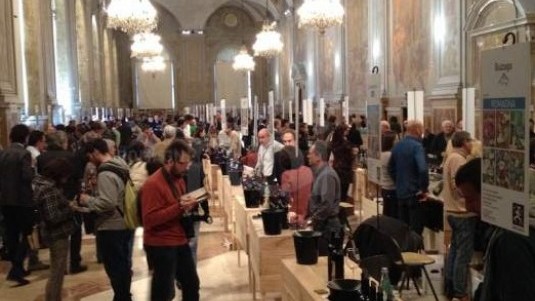 Enologica is a great event that has been staged in Bologna for the past few years at Palazzo Re Enzo in Piazza Maggiore. Thanks to the supervision of Giorgio Melandri, who created it under the aegis of the Enoteca Regionale dell'Emilia Romagna, it offers seminars on the region's wines and indigenous grapes that are extremely engaging and packed with information. The only defect, if one wants to be picky, is the tasting room where the acoustics are so bad that when it is full all you can hears is a loud buzz. The organization and assistance are excellent thank to the apt, courteous and never-invasive PR work done by Pierluigi Papi.
The tasting room is always full of an informed public aware that the best producers in the region are taking part. This makes it easier to compare wines from the same areas, allowing both the professional and enthusiast to comprehend the great diversities that exist in the zone and the areas that compose it. These differences are evident in the Sangiovese Romagnolo wines offered as well between Lambrusco di Sorbara and those from Reggio Emilia.  Another factor that makes this event so engaging is the level of fellow colleagues attending. These are all people who love to talk about wine with brilliance and competence, who are never closed-minded and approach wines ready to recognize the differences between them. They see themselves not as gurus but objective observers with no interest in the useless polemics that seem so popular today. This mentality is shared by participating producers who are always ready to recommend the wines of others without any jealousy or prejudice. They prefer, in fact, to play the role of guide to introduce the visitor to their territory. An incarnation of this spirit, one easily found in Romagna, is the young and talented enologist Francesco Bordini. When I go to Enologica I like to taste the wines with him because he chooses ones that are not his own but which he considers of particular interest in order to understand the territory. An approach you could even call very 'French'.
What stands out is how dynamic this geographic area is when it comes to wine, one which is little by little, and not in a homogenous way, becoming aware of its own quality and potential. Producers here are not afraid to demonstrate this without bending to market fads or by copying models from other areas that would not be applicable here. This awareness produces different and interesting results that are offered to the consumer at a reasonable price. This dynamism is more evident in Romagna than in Emilia but this is probably due to the notoriety of the grapes being used.
We will start off with Sangiovese. As I have said before, Romagna should be divided not into townships but according to altitude and soils to make the wines more comprehensible. The lower altitudes have a deeper clay soil which gives wines greater boldness and creates tannins that are more difficult to tame. The soils beyond the ravines are much more interesting and need to be viewed according to which have more chalk and which have more sand because each produces different characteristics. The former produces wines that are saltier and more concentrated, while those from the latter soil are extremely elegant with refined tannins and a suppler flavor. Typical examples of these latter wines are those from Modigliana, which between the soil and altitude are at the limit for Sangiovese. Bertinoro and upper Predappio are clear examples of soils with more chalk.
As far as Emilia is concerned, the 'phenomenon' of Lambrusco exploded on an international level and for the first time it was the Italians who rediscovered it. It is perhaps important to note that the Pignoletto grape is about to become famous. Cultivated in a rather vast area in the Colli Bolognesi, the grape is producing wines with a distinct style, especially the still wines that I consider more interesting. The sparkling wines, on the other hand, for now have not demonstrated a great potential future.  Thanks to modern technology and winemaking methods, the still wines have developed an interesting aroma that pleasingly unites notes of wild herbs like asparagus, nettles, mallow and other more floral sensations both white and yellow. A nice acidic base makes the wines wonderfully drinkable. In general, we can say that the difference in aromas is principally due to the altitude of the vineyards.
What follows are reviews of some of the wines that impressed me at Enologica.
Related Products