The 3 seminars from 14:30 on of sunday the 3rd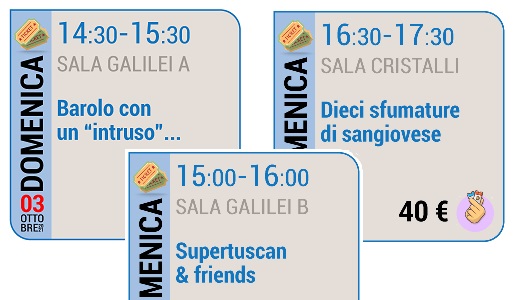 Presentation of The Essential Guide to Italian Wines 2022. Here are from the fourth to the sixth seminar on Sunday 3, in Milan at Hotel Principe di Savoia, Piazza della Repubblica 17: Barolo with an "intruder", Supertuscan & friends, Ten nuances of sangiovese.
The safety of the event is our priority, for this reason it will be mandatory to show the green pass at the entrance, always wear the mask (that can be removed only once you are seated at your seat) and the temperature will be tested before entering the event. Anyone with a temperature higher than 37.5 degrees will not be admitted.
he number of seats in the seminar rooms is limited to ensure safe distances between people. Seminar access is by online registration only; no tickets will be sold on-site.
The cost of participation for each seminar is € 40,00 (with discounts for Ais, Fisar, Fis and Onav members) and includes the participation to the seminar, a paper copy of DoctorWine's The Essential Guide to Italian Wine 2022 and the access to the open tasting.
BAROLO CON UN "INTRUSO" will be held from 14.30 to 15.30 at Sala Galilei A. During the seminar the wines presented will be:
Nino Negri Sforzato di Valtellina Sfursat 5 Stelle 2018
Ca' Viola Barolo Sottocastello di Novello 2017
Prunotto Barolo Bussia 2017
Fontanafredda Barolo Vigna La Rosa 2017
Pio Cesare Barolo Ornato 2017
Vite Colte Barolo del Comune di Serralunga Essenze 2016
Elvio Cogno Barolo Ravera Bricco Pernice 2016
Giacomo Borgogno e figli Barolo Liste 2016
Livia Fontana Barolo Bussia Riserva 2015
Marchesi di Barolo Barolo Sarmassa Edizione limitata 10 anni 2011
SUPERTUSCAN & FRIENDS will be held from 15.00 to 16.00 at Sala Galilei B with these wines:
Caccia al Piano 1868 Bolgheri Superiore Caccia al Piano 2018
Le Macchiole Paleo 2018
Grattamacco Bolgheri Superiore Grattamacco 2018
Ca' Marcanda Bolgheri Camarcanda 2018
Tenuta San Guido Bolgheri Sassicaia 2018
Tua Rita Redigaffi 2018
Castello del Terriccio Castello del Terriccio 2017
Luretta Colli Piacentini Cabernet Sauvignon Corbeau 2016
San Leonardo San Leonardo 2016
DIECI SFUMATURE DI SANGIOVESE will be held from 16.30 to 17.30 at Sala Cristalli with these wines:
Badia di Morrona Terre di Pisa VignAlta 2018
Tenuta di Ghizzano Terre di Pisa Sangiovese Mimesi 2018
Fattoria Le Pupille Poggio Valente 2018
Frescobaldi Chianti Rufina Montesodi Riserva 2018
Dei Vino Nobile di Montepulciano 2018
Boscarelli Vino Nobile di Montepulciano Costa Grande 2016
Castello di Fonterutoli Chianti Classico Gran Selezione Castello di Fonterutoli 2018
Fèlsina Fontalloro 2018
Castellare di Castellina I Sodi di San Niccolò 2017
Rocca di Montegrossi Chianti Classico Gran Selezione Vigneto di San Marcellino 2016
To find out all the other seminars that will take place Saturday the 2nd and Sunday the 3rd click here or follow us in the next days.
Related Articles
| | | | | | |
| --- | --- | --- | --- | --- | --- |
| | Another 3 seminars of Saturday 2nd | 27/09/2021 | Editorial Staff | Presentations | |
| | The first three seminars of saturday 2nd | 27/09/2021 | Editorial Staff | Presentations | |
| | The last 4 seminars of Saturday 2nd | 27/09/2021 | Editorial Staff | Presentations | |
| | The first 3 seminars of Sunday the 3rd | 28/09/2021 | Editorial Staff | Presentations | |
| | 4th, 5th and 6th seminar of Sunday the 3rd | 28/09/2021 | Editorial Staff | Presentations | |