The first three seminars of saturday 2nd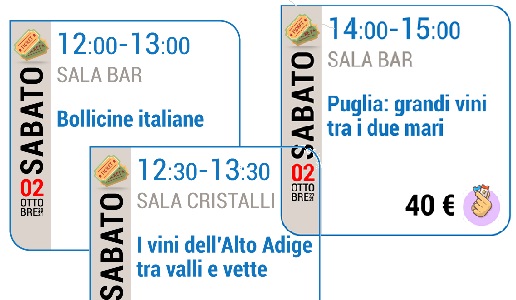 Presentation of The Essential Guide to Italian Wine 2022. These are the first three seminars of Saturday 2, all to be held at Hotel Principe di Savoia, Piazza della Repubblica 17, Milan.
The safety of the event is our priority, for this reason it will be mandatory to show the green pass at the entrance, always wear the mask (which can be removed only once you are seated at your seat) and the temperature will be tested before entering the event. Anyone with a temperature higher than 37.5 degrees will not be admitted.
The number of seats in the seminar rooms is limited to ensure safe distances between people. Seminar access is by online registration only; no tickets will be sold on-site.
The cost of participation for each seminar is € 40,00 (with discounts for Ais, Fisar, Fis and Onav members) and includes the participation to the seminar, a paper copy of DoctorWine's Essential Guide to Italian Wine 2022 and the access to the open tasting.
BOLLICINE ITALIANE will open the series of 22 seminars and it will take place from 12.00 to 13.00, at the Sala Bar, with the following wines:
Cantine della Volta Lambrusco di Sorbara Rosé Spumante Brut
Monsupello Blanc de Blancs Extra Brut
Giorgi Top•Zero Nature
Bosio Girolamo Bosio Riserva 2013
Castello di Cigognola Pinot Nero Moratti Cuvée dell'Angelo Pas Dosé 2013
Cesarini Sforza Trentodoc Aquila Reale Riserva
Letrari Dosaggio Zero Riserva 2015
Cavit Trentodoc Brut Altemasi Graal Riserva 2014
Enrico Serafino Alta Langa Zero 140 Riserva 2008
Lini 910 In Correggio Rosso Millesimato 2010
I VINI DELL'ALTO ADIGE TRA VALLI E VETTE will be the second seminar and it will take place from 12.30 to 13.30 at the Sala Cristalli. These are the wines:
Cantina Valle Isarco Alto Adige Valle Isarco Kerner Aristos 2020
Cantina Caldaro Alto Adige Pinot Bianco Quintessenz 2019
Erste + Neue Alto Adige Sauvignon Puntay 2019
Franz Haas Manna 2019
Cantina Tramin Alto Adige Chardonnay Troy Riserva 2018
Colterenzio Alto Adige Chardonnay Lafóa 2019
Elena Walch Alto Adige Bianco Grande Cuvée Beyond the Clouds 2019
Cantina Girlan Alto Adige Pinot Nero Curlan Riserva 2018
Cantina Bolzano Alto Adige Lagrein Prestige Riserva 2019
Muri Gries Alto Adige Lagrein Vigna Klosteranger Riserva 2016
PUGLIA: GRANDI VINI TRA I DUE MARI will take place from 14.00 to 15.00 at Sala Bar with the following wines:
Amastuola Salento Bianco Bialento 2020
Lasorte Cuadra Silos 2020
Tenute Rubino Mimante Oro 2015
Leone de Castris Five Roses 77º Anniversario 2020
Tenute Chiaromonte Metodo Ancestrale Brut Rosé 2017
Cantele Teresa Manara Negroamaro 2018
Coppi Gioia del Colle Primitivo Senatore 2017
Felline Primitivo di Manduria Dunico 2017
Antica Masseria Jorche Primitivo di Manduria Riserva 2017
Castello Monaci Primitivo del Salen
To find out all the other seminars that will take place Saturday the 2nd and Sunday the 3rd click here or follow us in the next days.