The first 3 seminars of Sunday the 3rd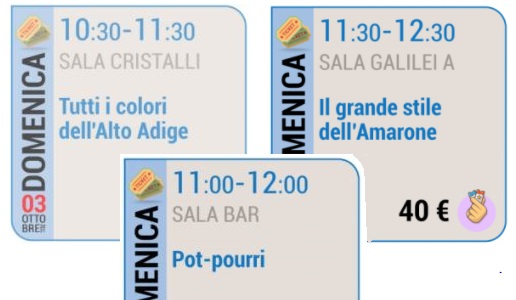 Presentation of The Essential Guide to Italian Wine. These are the first 3 seminars of Sunday 3, which will be held at the Hotel Principe di Savoia, Piazza della Repubblica 17, in Milan, starting at 10:30 am.
The safety of the event is our priority, for this reason it will be mandatory to show the green pass at the entrance, always wear the mask (that can be removed only once you are seated at your seat) and the temperature will be tested before entering the event. Anyone with a temperature higher than 37.5 degrees will not be admitted.
he number of seats in the seminar rooms is limited to ensure safe distances between people. Seminar access is by online registration only; no tickets will be sold on-site.
The cost of participation for each seminar is € 40,00 (with discounts for Ais, Fisar, Fis and Onav members) and includes the participation to the seminar, a paper copy of DoctorWine's The Essential Guide to Italian Wine 2022 and the access to the open tasting.
TUTTI I COLORI DELL'ALTO ADIGE is the first seminar of Sunday the 3rd from 10.30 to 11.30, at Sala Cristalli.
Obviouslly the wines are differet from the ones of saturday, so the lovers of wines from Alto Adige can taste a lot of labels in these two days. Here follows the list of wines:
Lorenz Martini Alto Adige Comitissa Pas Dosé Riserva 2017
Kettmeier Alto Adige 1919 Riserva 2015
Cantina Produttori San Michele Appiano Alto Adige Sauvignon Sanct Valentin 2020
Manincor Alto Adige Terlano Sauvignon Tannenberg 2019
Tiefenbrunner Alto Adige Sauvignon Rachtl Riserva 2 018
Cantina Kellerei Kurtatsch Alto Adige Chardonnay Freienfeld Riserva 2018
Cantina Terlano Alto Adige Grande Cuvée Terlaner I 2018
Rottensteiner Alto Adige Santa Maddalena Classico Premstallerhof Select 2020
Cantina Merano Alto Adige Pinot Nero Zeno Riserva 2018
POT-POURRI is the seminar that has a lot of surprises. It will be held on Sunday from 11.00 to 12.00 at Sala Bar with these wines:
Nicola Bergaglio Gavi del comune di Gavi Minaia 2020
Vin de La Neu Vin de la Neu 2019
La-Vis Maso Franch 2016
Les Crêtes Valle d'Aosta Chardonnay Cuvée Bois 2019
Medici Ermete Lambrusco di Sorbara Phermento 2020
Tenute Sajni Fasanotti Trentino Pinot Grigio Ramato Controcanto 2020
Marziano Abbona Dogliani Superiore Papà Celso 2020
La Gironda Nizza Le Nicchie 2018
Tenuta Olim Bauda Nizza Riserva 2018
Cantine Romagnoli Villò Valluna 2019
San Michele Capriano del Colle Rosso 1884 Riserva 2016
IL GRANDE STILE DELL'AMARONE will be held on Sunday the 3rd of October from 11.30 to 12.30 at Sala Galilei A. During the masterclass these are the wines that will be tasted:
Speri Amarone della Valpolicella Classico Sant'Urbano 2017
Tommasi Amarone della Valpolicella Classico 2017
Tedeschi Amarone della Valpolicella Maternigo Riserva 2016
Santi Amarone della Valpolicella Classico Proemio 2015
Pasqua Amarone della Valpolicella Famiglia Pasqua Riserva 2013
Terre di Leone Amarone della Valpolicella Classico 2012
Villabella Amarone della Valpolicella Classico Fracastoro Riserva 2012
Bertani Amarone della Valpolicella Classico 2012
Le Guaite di Noemi Amarone della Valpolicelle 2010
Tenuta Sant'Antonio Amarone della Valpolicella Lilium Est Riserva 2010
Secondo Marco Amarone della Valpolicella Classico Fumetto Riserva 2008
To find out all the other seminars that will take place Saturday the 2nd and Sunday the 3rd click here or follow us in the next days.
Related Articles