4th, 5th and 6th seminar of Sunday the 3rd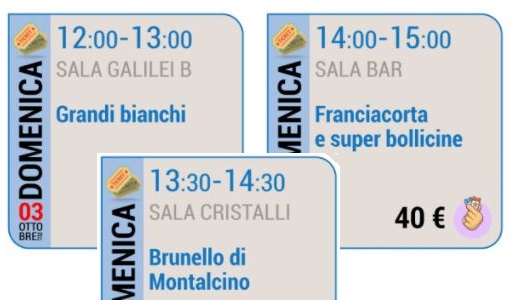 Presentation of The Essential Guide to Italian Wine 2022. Here are from the fourth to the sixth seminar on Sunday 3, in Milan at Hotel Principe di Savoia, Piazza della Repubblica 17: Great Whites, Brunello di Montalcino, Franciacorta and Super Bubbles.
The safety of the event is our priority, for this reason it will be mandatory to show the green pass at the entrance, always wear the mask (that can be removed only once you are seated at your seat) and the temperature will be tested before entering the event. Anyone with a temperature higher than 37.5 degrees will not be admitted.
he number of seats in the seminar rooms is limited to ensure safe distances between people. Seminar access is by online registration only; no tickets will be sold on-site.
The cost of participation for each seminar is € 40,00 (with discounts for Ais, Fisar, Fis and Onav members) and includes the participation to the seminar, a paper copy of DoctorWine's The Essential Guide to Italian Wine 2022 and the access to the open tasting.
GRANDI BIANCHI will be held from 12.00 to 13.00 at Sala Galilei B. During the seminar the wines tasted will be the folling:
Vinea Domini Roma Bianco 2020
Fontana Candida Frascati Superiore Luna Mater Riserva 2020
Tasca d'Almerita Sicilia Grillo Mozia Vigna Whitaker 2020
Enio Ottaviani Colli di Rimini Rebola 2019
Il Colombaio di Santa Chiara Vernaccia di San Gimignano L'Albereta Riserva 2018
Lungarotti Torgiano Bianco Torre di Giano Vigna il Pino 2018
Casale del Giglio Radix 2017
Franco Toros Collio Friulano 2020
Alessio Komjanc e figli Collio Bianco Bratje 2019
Jermann Sauvignon 2020
Venica & Venica Collio Sauvignon Ronco delle Mele 2020
BRUNELLO DI MONTALCINO will be held from 13.30 to 14.30 at Sala Cristalli with the following wines:
Siro Pacenti Rosso di Montalcino 2018
La Magia Brunello di Montalcino Ciliegio 2016
Camigliano Brunello di Montalcino Paesaggio Inatteso 2016
Argiano Brunello di Montalcino Vigna del Suolo 2016
Banfi Brunello di Montalcino Vigna Marrucheto 2016
Giodo Brunello di Montalcino 2016
Casanova di Neri Brunello di Montalcino Tenuta Nuova 2016
Col D'Orcia Brunello di Montalcino Vigna Nastagio 2015
Canalicchio di Sopra Brunello di Montalcino Riserva 2015
FRANCIACORTA E SUPER BOLLICINE will be held from 14.00 to 15.00 at Sala Bar. These the wines in the tasting:
Barone Pizzini Franciacorta Satèn 2017
Bellavista Franciacorta Teatro alla Scala Brut 2016
Ca' Del Bosco Franciacorta Annamaria Clementi 2011
Contadi Castaldi Franciacorta Zèro 2017
Mosnel Franciacorta E.B.B. Extra Brut 2010 Riedizione 2020
Guido Berlucchi Franciacorta '61 Nature Rosé
Cantina Valtidone Spumante Arvange Pas Dosé
Gancia Asti 24 mesi 2012
To find out all the other seminars that will take place Saturday the 2nd and Sunday the 3rd click here or follow us in the next days.
Related Articles
| | | | | | |
| --- | --- | --- | --- | --- | --- |
| | The first three seminars of saturday 2nd | 27/09/2021 | Editorial Staff | Presentations | |
| | The first 3 seminars of Sunday the 3rd | 28/09/2021 | Editorial Staff | Presentations | |
| | Another 3 seminars of Saturday 2nd | 27/09/2021 | Editorial Staff | Presentations | |
| | The last 4 seminars of Saturday 2nd | 27/09/2021 | Editorial Staff | Presentations | |