Another 3 seminars of Saturday 2nd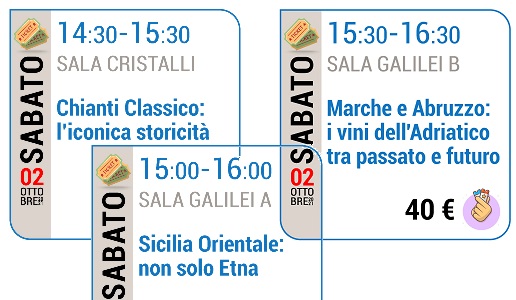 Presentation of The Essential Guide to Italian Wine 2022. These are the next three seminars of Saturday 2nd, all of them will be held at Hotel Principe di Savoia, Piazza della Repubblica 17, Milan.
The safety of the event is our priority, for this reason it will be mandatory to show the green pass at the entrance, always wear the mask (which can be removed only once you are seated at your seat) and the temperature will be tested before entering the event. Anyone with a temperature higher than 37.5 degrees will not be admitted.
The number of seats in the seminar rooms is limited to ensure safe distances between people. Seminar access is by online registration only; no tickets will be sold on-site.
The cost of participation for each seminar is € 40,00 (with discounts for Ais, Fisar, Fis and Onav members) and includes the participation to the seminar, a paper copy of DoctorWine's Essential Guide to Italian Wine 2022 and the access to the open tasting.
CHIANTI CLASSICO: L'ICONICA STORICITÀ will be the fourth seminar of October 2nd and it will take place from 14.30 to 15.30 at Sala Cristalli. These the wines of the tasting:
La Sala Chianti Classico Gran Selezione Il Torriano 2018
Castello di Querceto Chianti Classico Gran Selezione Il Picchio 2018
Castello di Monsanto Chianti Classico Riserva 2018
Famiglia Cecchi Chianti Classico Gran Selezione Villa Rosa 2018
Lilliano Chianti Classico Gran Selezione 2018
Querciabella Chianti Classico Riserva 2018
Principi Corsini - Villa Le Corti Chianti Classico Gran Selezione Zac 2018
Vallepicciola Chianti Classico Gran Selezione LapIna 2018
Tolaini Chianti Classico Gran Selezione Montebello Sette 2017
Fattorie Melini Chianti Classico Vigneti La Selvanella Riserva 2017
Rocca delle Macie Chianti Classico Gran Selezione Sergio Zingarelli 2017
SICILIA ORIENTALE: NON SOLO ETNA will take place from 15.00 to 16.00 at Sala Galilei A with these wines:
Neri Etna Bianco Contrada Arrigo 2019
Firriato Etna Bianco Cavanera Ripa di Scorciavacca 2020
Cottanera Etna Bianco Contrada Calderara 2019
Feudo Cavaliere Etna Bianco Millemetri 2016
Planeta Riesling Eruzione 1614 2018
Feudo Maccari Sicilia Saia 2019
Donnafugata Etna Rosso Contrada Marchesa 2018
Pietradolce - Piante Faro Etna Rosso Barbagalli 2018
Nicosia Etna Rosso Contrada Monte Gorna Vecchie Viti Riserva 2015
Cusumano Etna Rosso Alta Mora Guardiola 2016
Palari Faro Palari 2016
MARCHE & ABRUZZO: I VINI DELL'ADRIATICO TRA PASSATO E FUTURO will be the sixth seminar of the day from 15.30 to 16.30 at Sala Galilei B. Here the wines presented:
Fiorini Bianchello del Metauro Superiore Andy 2019
Velenosi Offida Pecorino Rêve 2019
Garofoli Verdicchio dei Castelli di Jesi Classico Superiore Podium 2019
Umani Ronchi Verdicchio dei Castelli di Jesi Classico Superiore Vecchie Vigne 2019
Tenuta di Tavignano Castelli di Jesi Verdicchio Riserva Classico Misco 2018
Marotti Campi Castelli di Jesi Verdicchio Riserva Classico Salmariano 2018
Montecappone Castelli di Jesi Verdicchio Riserva Classico Utopia 2018
Bucci Castelli di Jesi Verdicchio Riserva Classico Villa Bucci 2018
Cataldi Madonna Montepulciano d'Abruzzo Tonì 2018
Fattoria Nicodemi Montepulciano d'Abruzzo Colline Teramane Notàri 2019
Masciarelli Montepulciano d'Abruzzo Marina Cvetic Iskra Riserva 2017
To find out all the other seminars that will take place Saturday the 2nd and Sunday the 3rd click here or follow us in the next days.
Related Articles