Verdicchio Sabbionare, in praise of finesse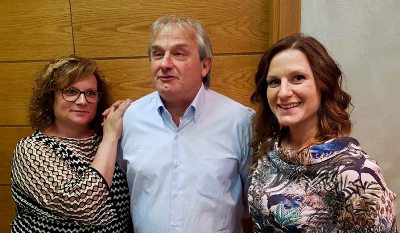 A vertical tasting of Sabbionare Verdicchio dei Castello di Jesi Classico Superiore confirms how this is one of the finest in the appellation, thanks also the sandy soil.
Finesse, exalting the characteristics of the Verdicchio varietal and of each vintage: this, glass in hand, would have appeared to be the goal the Paolucci family, which owns the Sabbionare estate, set out to show with this selection of Verdicchio wines.
With the assistance for decades now in the winery of Sergio Paolucci, a leading expert of Verdicchio and Castelli di Jesi, and help in the vineyard from Pierluigi Donna, of the Sata agricultural firm in Brescia, several days ago the Paolucci family welcomed journalists and sector experts to their estate in Montecarotto. Their aim, fully achieved, was to illustrate their productive philosophy and demonstrate the evolution of certain vintages of Verdicchio Sabbionare, their select and most important wine.
It is a wine that remains one of the finest in its appellation (something not always recognized) thanks also the sandy soil the vines grow in. And thanks above all to the winery's style and the work done in the vineyard, which exalts the wine's depth and drinkability.
"Verdicchio is a semi-aromatic varietal and thus should avoid being in contact with oxygen. But there is no need to exaggerate otherwise you'll get something closer to a Sauvignon", Paolucci explained. "Another factor that must be dealt with is the bitterness of the Verdicchio grape, which must be present but again without exaggeration. The solution is calibrating the pressing according to the characteristics of each harvest. This is an operation done, glass in hand, sitting in front of the press and quickly and continuously tasting the juice that comes out of the press. The must then needs to be cleaned a little before fermentation at a low temperature".
"How are you dealing with climate change in Castelli di Jesi," we asked.
"The solution is to each year produce some sparkling wine, which in extremely hot years can be used in the final blend. Early harvests obviously are not enough and so part of the vineyards need to be used to make sparkling wine. Another thing that needs to be done is change approach in regard to when to harvest. It no longer makes sense to wait for the right moment for there is the risk that you will have 'burnt' grapes in the winery. It is better to stagnate the harvest, fermenting the harvested grapes separately and then creating a blend in the end":
All the following wines are 100% Verdicchio and mature in stainless steel.
Related Products