Extra Brut Extra Old, a revolution at Veuve Clicquot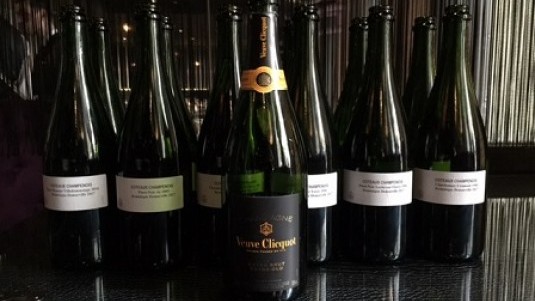 Extra Brut Extra Old Veuve Clicquot Champagne is composed of six vintages of vins de reserve and is certainly not a version of Yellow Label Extra Brut but a creation based on wines that have aged long in the Maison's cellars. 
Maison Veuve Clicquot is getting serious which is not mean it was playing around before given that it has a dominate position on the Champagne market and has been an undisputed and major player for over 200 years. Production has made significant progress since they launched their cuvée de prestige La Grande Dame in 1972, to honor the 'widow' Clicquot Madame Barbe-Nicole Ponsardin and mark the Maison's bicentennial. The evolution has been silent and careful, made of small, giant steps towards a stylistic identity that is even more convincing and this quantum leap has been possible thanks to the great skill and modesty of Dominique Demarville, who has been the Maison's chef de caves since 2008.
Under his direction, Veuve Clicquot production has rediscovered the avant-garde spirit that distinguished the Maison from the beginning, a time when it was unthinkable that a woman could run a wine estate but who then revolutionized Champagne production through her determination, introducing not only the first Vintage Champagne and the first Rosè bubbly blend but also the table de rémouage which led to the pupitres for pressing.
Dominique Demarville has increased the quality of production and Vintage 2008 (we wrote about it here) marked the introduction of wood in the winery with large Allier and Vosgi oak barrels for aging some of the base wines for the different blends. And the latest novelty from Maison Clicquot was born from the 400 vins de reserve from over 17 vintages that changed non-vintage cuvée in recent years.
The Champagne is called Extra Brut Extra Old and it is composed of six great vintages of reserve wines – 1988, 1996, 2006, 2008, 2009 and 2010 - including Pinot Noir, Chardonnay and Pinot Meunier. It is important to note that this is not simply a version of their Extra Brut Champagne Yellow Label but a new creation made from wines that have aged long in the Maison's cellars. Extra Old is key term to interpret this cuvée, which selected wines from over the past 30 years that compliment each other thanks to their richness, freshness, intense aromas, minerality, boldness and elegance which create a totally innovative blend.
Related Products
Related Articles