Vintage 2008 and the start of a new era for Veuve Clicquot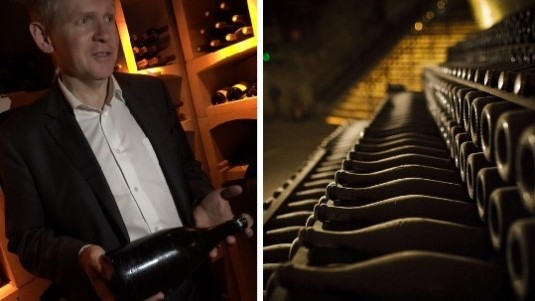 Vintage 2008 will be a memorable year for Maison Veuve Clicquot, a milestone of almost equal importance with 1811, the year of the comet that brought such good fortune to Madame Clicquot with the first vintage sparkling wine in the history of Champagne.
Although there was no comet in 2008, a star was undoubtedly born, that of Dominique Demarville who created a small Copernican revolution at the Maison. She has an impressive track record and a great sensibility and mastery of Maison Veuve Clicquot's most important grape: Pinot Noir. In part this is thanks to her being a native of Montage de Reims, more specifically the Premier Cru village of Tauxières. Dominique studied enology in Dijon, Burgundy, which explains many things, and at only 31 years of age she was chosen in 1998 to head production at Mumm, thus becoming the youngest chef de caves in the history of Champagne. In 2006 she joined Maison Veuve Clicquot and in 2008 succeeded Jacques Peters as its chef de caves. This event coincided with a harvest that many in Champagne consider to be one of the three best of the decade together with 2002 and 2004. One of her favorite says is: "In order to work with Nature, one must have their feet on the ground" and this in regard to both being humble and working the vineyard.
Dominique's first watershed decision was to vinify in wood 2% of the wine used to make the iconic Carte Jaune (Yellow Label). Maison Clicquot had stopped using wood in the 1960s but her experience in Burgundy had convinced Dominique to use 55hl and 75hl oak foudres from Francois Frères to best exalt the Pinot Noir that accounts for around 60% of the blend in every Champagne Veuve Clicquot. And while we will have to impatiently wait at least a year for her first version of Cuvée La Grande Dame, Maison Clicquot's vintage 2008 has already surprised us with its class and style. Malolactic fermentation is part of the productive style but the 5% addition of wines that have totally fermented and aged in wood has given this Champagne a unique creaminess, without any woody notes, together with the citrusy freshness and crispy fruit typical of the Clicquot style.
According to Dominique Demarville, the 2008 harvest was very similar to those of 1996 and '85 in regard to the wine's capacity to age and to complete her small revolution, she had put the date the wine was disgorged on the back label of Vintage 2008. Given her innovative spirt and audaciousness, we are certain that Madame Clicquot would be proud of Dominique Demarville.
Related Products