New Year's toasts (1): The top Prosecco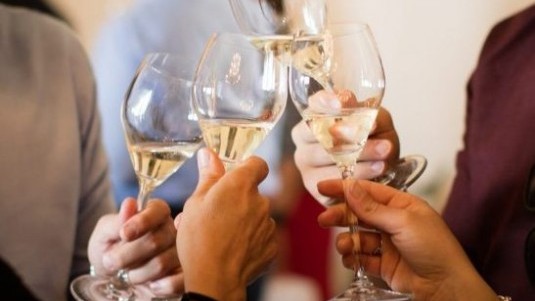 For those who cannot go without the sparkling wine Italians love the most, here we have selected the best Prosecco Superiore di Conegliano Valdobbiadene plus an unclassified champion.
The countdown has begun and with five days to go to New Year's it is natural to ask oneself what sparkling wine they want to celebrate the transition from 2017 to 2018 with. We have decided to offer our suggestions and they are all Italian.
We start today with six Prosecco Superiore, all from the historic area of Conegliano Valdobbiadene that, in our opinion, are unbeatable. We have also added a Charmat method (the same as the others) made from Glera grapes (the same as the others) but which did not meet the requirements to be part of the appellation (but comes from a cru vineyard in the same zone): Grave di Stecca 2013 from Nino Franco, a wine that is a step above the others.
Tomorrow we will present the best Franciacorta and the day after tomorrow the best Trentodoc with the hope that our suggestions will help decide what you want to drink.
Enjoy and Happy New Year.
Related Products
Product
Producer
Date of publication
Author
Read
Grave di Stecca 2013
_
Nino Franco
12/27/17
Daniele Cernilli
100% Glera grapes. Charmat method for 2 years. Light straw yellow color, elegant and continuous bubbles. Complex aromas of flint, yeasts, citrusy and floral hints. Lively taste, tense, savory, very...
Leggi tutto
Ruio Brut 2016
Conegliano Valdobbiadene Prosecco Superiore
Malibràn
12/27/17
Daniele Cernilli
100% Glera grapes. Charmat method. Light yellow color, elegant and slow bubbles. Strong fruity aromas of white peach and rennette apple, citrusy hints and broom and acacia flowers. Very balanced and...
Leggi tutto
Vigna La Rivetta 2015
Valdobbiadene Superiore di Cartizze
Villa Sandi
12/27/17
Daniele Cernilli
100% Glera grapes. Charmat method. Light yellow color, elegant and abundant bubbles. Clear floral aromas and hints of yeasts in the background. Tense taste, agile, creamy bubbles, sensual, very...
Leggi tutto
Nodi 2015
Valdobbiadene Prosecco Superiore
Nino Franco
12/30/16
Daniele Cernilli
100% Glera grapes. Charmat method. Light yellow color, abundant, continuous and slow bubbles. Typical aromas of white peach, yeasts and wisteria flowers. Lively taste, savory, neat, well sustained by...
Leggi tutto
Torri di Credazzo Extra Dry 2015
Valdobbiadene Prosecco Superiore
Follador
12/27/17
Daniele Cernilli
100% Glera grapes. Charmat method. Light yellow color, elegant and fast bubbles. Aromas of yeasts, bread crust, then broom flowers, cedar, yellow plums. Lively, creamy, pleasantly savory, fresh and...
Leggi tutto
Giustino B Extra Dry 2016
Valdobbiadene Prosecco Superiore
Ruggeri
12/27/17
Daniele Cernilli
100% Glera grapes. Charmat method. Greenish straw yellow color, elegant and continuous bubbles. Aromas of yeasts, flint, wisteria flowers, lavender and thyme. Lively taste, creamy bubbles, smooth and...
Leggi tutto
Rive di Farra di Soligo Col Credas Brut 2016
Valdobbiadene Prosecco Superiore
Adami
12/27/17
Alessandro Brizi
100% Glera grapes. Charmat method. Bright straw yellow color, thin bubbles. Clear and intense and complex aromas of fruits, pear and citrus, flint and cacia hints. Dry taste, austere, savory, rich...
Leggi tutto
Nino Franco

11/13/12
Redazione
Primo Franco is a noble pioneer of Prosecco. It was he, in fact, who had his family's estate, created by his grandfather in 1919, concentrate on Glera grapes and the terroir of Valdobbiadene. A...
Leggi tutto
Malibràn

11/13/12
Redazione
Maurizio Favrel's wines are really good, a synthesis of technique and territoriality that is difficult to match among Prosecco Superiore. His estate is in Susegana and his small winery are...
Leggi tutto
Villa Sandi

11/13/12
Redazione
Immersed in the green Marca Trevigiana hills, Villa Sandi is an elegant, Palladian-style estate built in 1692. The Moretti Polegato family has owned it for several generations and it is the...
Leggi tutto
Follador

12/17/15
Redazione
The Follador estate is Col San Martini, on the 'wine trail' that leads from Conegliano to Valdobbiadene. The family has been making wines for centuries and in 1769 Giovanni Follador...
Leggi tutto
Ruggeri

12/17/15
Redazione
Giustino Bisol founded this winery in 1950 and it was first located in Santo Stefano before moving to Valdobbiadene where it is today. The Bisol family can be considered as the forefathers of...
Leggi tutto
Adami

01/14/16
Redazione
In 1920, Abele Adami acquired from Count Balbi Valier a lovely and promising vineyard on the Marca Trevigiana hills, just below the first Dolomite peaks. The vineyard immediately proved to be most...
Leggi tutto
Related Articles