Veal chops cooked with butter and sage and roast potatoes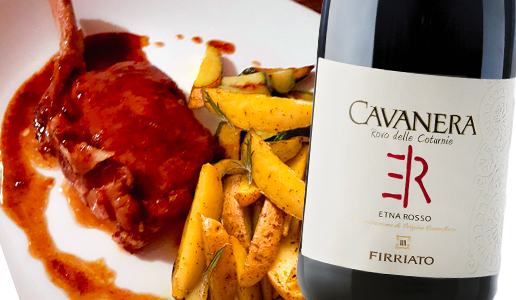 With care, veal remains juicy and pairs excellently with roast potatoes as well as with an Etna DOC Cavanera Rovo delle Coturnie Firriato. Recipe made by Chef Matteo Giudici.
Ingredients for 4 people:
4 veal chops, ½ kg potatoes, 2 sprigs of rosemary, salt and pepper as desired, extra-virgin olive oil as needed, 100g butter., some sage leaves, two garlic cloves and 300m gravy.
Directions:
Place the veal chops in vacuum-sealed bags and cook them in a sous vide oven at 55°C for 90 minutes. (The meat can be cooked ahead of time and kept in the vacuum-sealed bags in the refrigerator for up to 3-4 days but they need to be warmed up in water before serving for a dozen or so minutes at 50°C).
Wash and dry the potatoes, peel and cut into equal-sized cubes (a couple of cm in size). Put the potatoes into a bowl, season with EVOO, salt and pepper and then add the rosemary and mix together well with a wooden spoon.
Put the seasoned potatoes into an oiled pan, add a peeled garlic clove and bake for around an hour in an oven pre-heated to 200°C.
Remove the veal chops from the bags, dry with paper towels and then brown on all sides in a pan with the butter, sage leaves and the remaining garlic clove. Salt and pepper to taste.
Serve the chops topped with some gravy with some roast potatoes on the side.

WIne to pair:
(edited by Stefania Vinciguerra)
Etna Doc Cavanera Rovo delle Coturnie 2015 Firriato
Soft ruby red color with garnet reflections. Intense aromas of ripe red fruits, delicate hints of cherry and wild strawberries. Varied spiciness. Fresh and balanced taste, coherent. Good body and briny, long finish.
Production area: a single vineyard of Tenuta Cavanera Etnea in Contrada Verzella, on the northeastern side of the volcano (from 650 meters to 750 meters above sea level), in the municipality of Castiglione di Sicilia (Catania). The soil is black, loamy-sandy of volcanic origin, highly draining.
Grape varieties: Nerello Mascalese and Nerello Cappuccio with Etnean tree-training system and a density of 3,500-4,000 plants/ha and a yield of 5,5-5,8 tons/ha.
Harvest: hand-picking in the second and third decade of October.
Vinification: Fermentation at 24-25°C for 18 days. Vinification is carried out in frustum-of-cone shaped wooden vats, according to traditional red wine vinification method. Malolactic fermentation carried out. Maturation 9 months in durmast Slovenian casks. Bottle ageing 12 months.
Alcoholic content: 14.20% vol.
First produced vintage: 2007
Average production per vintage: 15.000 bottles
Serving temperature: 16-18°C
Recommended food pairings: Sliced beef, veal entrecôte, lamb loin.
Related Products