Potato and mushroom cakes with a Montasio cheese fondue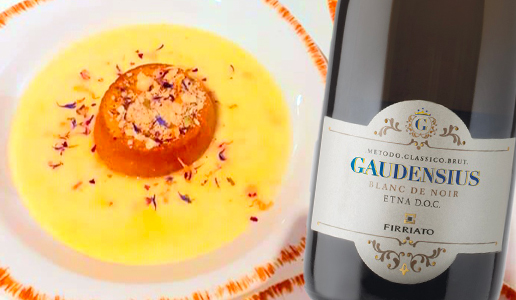 This recipe from Chef Matteo Giudici has an intense yet delicate flavor which we pair with an Etna Spumante Gaudensius Blanc de Noir Firriato.
Ingredients for 6 cakes
250ml fresh cream, ½ packet saffron, 2 egg yolks plus one whole egg, 200g fresh mushrooms (porcini and king trumpet in equal parts), extra-virgin olive oil as needed, 40g potato flakes, salt and pepper as desired.
For the fondue: 1 small potato, 150g Montasio cheese cut into pieces, 25g grated Parmigiano and 125g fresh cream.
For the garnish: roasted hazelnuts.
Directions:
For the cakes: Cut the mushrooms into small cubes and sauté them in a pan with a trickle of oil.
Mix all the ingredients (except the mushrooms) together in a bowl and use a hand mixer to create a homogenous dough.
Add the mushrooms and mix well.
Divide the dough equally into six aluminum molds, place them in a deep baking pan and bake bain-marie for 35-40 minutes in an oven pre-heated to 160°C.
For the fondue: Peel the potato and cut into thin slices then place them in a small pan. Add water and bring it to a boil (the potato starch will keep the fondue intact) and cook until the slices begin to come apart.
Add into a blender the cheese that has been cut into small pieces, the cream and the potatoes along with some of their water. Blend until it becomes a homogenous sauce.
Pour the mixture into a small pan and heat it up while stirring with a wooden spoon.
Use a ladle to pour the fondue over each potato-mushroom cake and top with chopped hazelnuts.

Wine to pair:
(edited by Stefania Vinciguerra)
Etna Spumante Gaudensius Blanc de Noir
Intense straw yellow color, white foam and fine perlage. Aromas of candied fruit, lemon zests, pomegranate and red berries such as currants. Then yellow fruit and pineapple. Fresh sip, intense taste with evident citrusy notes. Rich body and smooth progression. Savory finish.
Production area: vineyards of Tenuta Cavanera Etnea, in the Contrade of Verzella, Imbischi and Feudo, in the territory of Castiglione di Sicilia (CT). North Eastern side of the Volcano (650 meters above sea level). Sandy soil with high drainage capacity.
Grape variety: Nerello Mascalese, training system alberello etneo. Density of 3.500 plants per hectare, yield 50 q/ha.
Harvest: hand-picked, end of September.
Vinification: Soft pressing of whole grapes. Fermentation at controlled temperature (16°C) and second fermentation in bottle (classic method). Maturation in bottle in contact with yeasts for more than 32 months with frequent coup de poignée to favor the complexity on the nose.
Dosage: Brut.
Alcohol content: 12.56% vol.
Annual production: 18.000 bottles.
Serving temperature: 8°C
Related Products