Nebrodi black pig filets with applesauce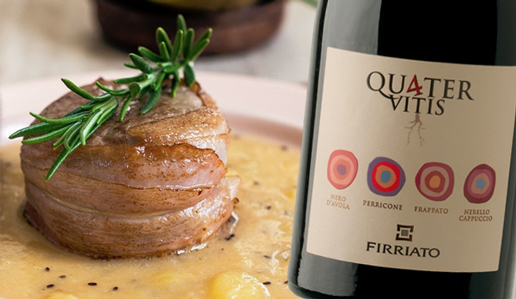 An excellent winter dish from Chef Bonetta Dell'Oglio that we pair with a Quarter Vitis Rosso Firriato.
Ingredients for 4 people:
8 Nebrodi black pig filets each around 2cm thick, 8 slices of speck, a glass of white wine, extra-virgin olive oil as needed, rosemary, salt and pepper.
For the applesauce: 4 golden delicious apples, salt and black pepper, fresh rosemary.
Directions:
For the meat: prepare a dip of EVOO with chopped rosemary, pepper and salt and coat the filets with it.
Wrap each filet in a slice of speck and grill lightly on a hot grill for just a few minutes.
Place the filets in a pan with a little EVOO and the wine and bake for 10 minutes in a hot oven, making sure the meat remains moist.
For the applesauce: peel the apples, cut them into slices and cook in a little water with EVOO and a pinch of salt. Once the apples are nice and soft blend them with a mixer to make a purée.
When the filets are done, spread some applesauce on each plate and place the filets on top. Garnish as desired and serve hot.

Wine to pair:
(edited by Stefania Vinciguerra)
Quater Vitis Rosso Terre Siciliane Igt 2017 Firriato
Dense ruby red color with purple reflections. Clear nose with aromas of wild berries, spicy and peppery notes, hints of balsamic and chocolate. Soft and almost creamy on the palate, full-bodied and Mediterranean, with harmonious and balanced finish.
Production area: Nero d'Avola, Perricone and Frappato grapes come from Pianoro Cuddìa estate in the countryside of Trapani, grown on calcareous clay soil (from 130 to 250 meters above sea level), while Nerello Cappuccio comes from Cavanera estate on Etna at about 680 meters above sea level.
Grape varieties: equal blend of Nero d'Avola, Perricone, Frappato and Nerello Cappuccio grown with different agronomic practices for each variety. The yield per hectare is between 65 and 68 quintals.
Harvesting: each grape variety has its own harvesting time, within the middle of September for Frappato, Perricone and Nero d'Avola, in October for Nerello Cappuccio. Harvesting by hand allows selection of the grape bunches, which are then placed in wooden crates in order not to compromise the perfect integrity of the berries.
Vinification: as the grapes gradually reach the winery, the different varieties undergo a further selection to start their individual processes of vinification in order to exalt the specific peculiarities. The aging of each single wine takes place in American and French oak barrels, for a maximum of 10 months. This way each cuvée can best enhance the characteristics of each grape variety.
Alcohol content: 14.25% vol.
Serving temperature: 16-18°C.
Related Products