Couscous with calamari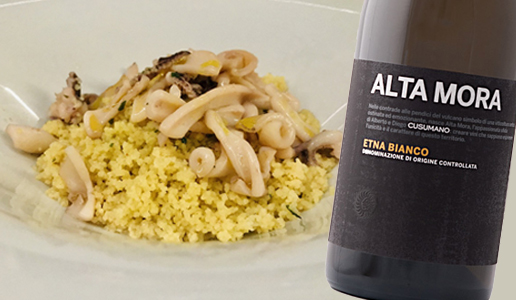 Very simple to make, we pair this with an Etna Bianco Alta Mora 2018 Cusumano
Ingredients for 4 people:
200g couscous, 2 large squid (around 600g), 1 ginger root, 250g vegetable broth (without tomato), 1 glass white wine, extra-virgin olive oil, salt and pepper as needed.
Directions:
Clean the squid and cut into strips.
Cook the squid in a non-stick pan with a trickle of EVOO and douse with the white wine.
In the meantime, put 250ml of vegetable broth in a small pot with 3 tablespoons of EVOO. Add the couscous when the broth comes to a boil, turn off the heat and let sit for 5 minutes.
Once the couscous has absorbed the both and fluffed, break it up with a fork and add in the calamari. Mix together and grate in the ginger as desired.

Wine to pair:
(edited by Stefania Vinciguerra)
Etna Bianco Alta Mora 2018 Cusumano
Intense greenish straw yellow color. Attractive and complex aromas of cedar, alfalfa, flint, lime and green plums. Rich taste, neat and tense, full bodied and fresh acidity. Delicious and dangerous drinkability. Splendid version.
Production area: Milo, Praino contrada south side and Castiglione di Sicilia in the Verzella contrada, on Mount Etna.
Grape variety: 100% Carricante, espalier-grown over 8 hectares of vines at an altitude of 600 meters above sea level.
Harvest: entirely by hand in the second ten days of October.
Winemaking: after a soft pressing of the bunches, fermentation is in stainless steel at a temperature of 18-20°C. Ageing is in the same tanks for 4 months on fine lees and then further refinement in the bottle before release.
Serving temperature: 8-10°C.
Suggested food pairings: appetizers and fish soups, it goes well with steamed shellfish and stewed white meat. Try it with sushi.
Related Products