Sassella Prevostini, Valtellina at your fingertips (2)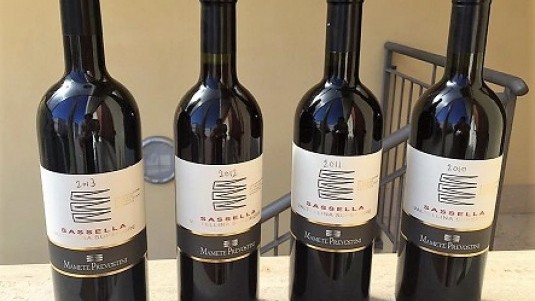 A little chat with Mamete Prevostini and the tastings of 4 vintages of his Sassella Valtellina Superiore: 2013-2012-2011-2010.
We continue our article on Mamete Prevostini's Sassella.
DoctorWine: Has climate change helped Valtellina wines?
Mamete Prevostini: I would say it has. The increase in average temperatures and that of light has made it easier for grapes to ripen in an area that can suffer from the cold.
DW: Have the organoleptic differences between the Valtellina cru become distinct over the years or are there some years when they are so similar that it makes no sense to differentiate them on the label?
MP: A complicated question. The best Valtellina vineyards have their own character and there is little doubt about that. However, these characteristics are exalted in balanced and gradual years while when the weather has been cold or excessively hot it is difficult to exalt the differences between the various Sassella, Inferno and so on.
DW: Compared to the other great wines made from Nebbiolo, there are some questions about how Valtellina wines age. When should the better Valtellina vintages be drunk?
MP: I know this may seem strange, but in my opinion the better Valtellina cru are ready after a year in the bottle. At least mine are. For sure they can improve aging in the bottle for decades. But this is another story.
DW: How is the state of Valtellina wine?
MP: Fortunately, we cannot complain. Valtellina is an important commercial crossroads and its vicinity with a rich country like Switzerland helps a lot.
DW: What are the more important markets?
MP: Aside from Italy and Switzerland I'd say Northern Europe and North America.
Mamete Prevostini  
Owner : Mamete Prevostini 
Via Don Primo Lucchinetti, 69 
23020 Mese (SO) 
Tel. +39 0343 41522 
Fax +39 0343 41521 
info@mameteprevostini.com 
www.mameteprevostini.com 
Facebook:  mameteprevostini 
Year of foundation:  1925 
Total bottles produced:  180.000 
Hectares of vineyards:  22,5 
Related Products
Related Articles