Nino Negri: 120 years of the history for the estate and 60 for its Sfursat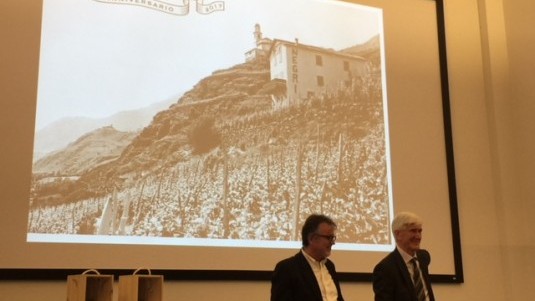 Sfursat 5 Stelle (Five Stars), a Sforzato di Vatellina from Nino Negri, has turned 60 and the event was celebrated with a vertical tasting of six vintages: 2013, 2009, 2001, 1999, 1997 and 1989.
Anniversaries are always important, especially when a wine estate surpasses the 100-year mark making decades an amazing measure of time. And 120 years are an infinity in the world of wine where the pace of change is amazingly fast compared to the slow growth of vines. Every year they offer only one chance, one harvest to produce a wine that can give an authentic voice to a territory. And for such a wine, 60 vintages are an important milestone indeed.
Great men are those who can bring about great changes and in the history of Nino Negri, a Valtellina estate that last year turned 120, there are three people who changed its destiny. It all began in 1897 when Nino Negri, a native of Aprica, married Amelia Galli, the owner of the Quadrio Castle in Chiuro, and together they decided to make the castle the center of their winemaking business. The major change, however, took place in 1927 when their son Carlo, known as Carluccio, earned his degree in winemaking science and began to work with his father. It was thanks to him that the Nino Negri estate became a modern winery with the employment of new production technology and the acquisition of new vineyards. But the biggest change came with the shift from selling wine in bulk, mostly to nearby Switzerland, to bottling their wine for export to Europe and the United States. The grape used to make the Sfursa is Nebbiolo (Chiavennasca) that at the time needed 8-9 years to soften because of the pressing method used to extract the juice from the skins. After almost 30 years of experimentation, in 1956 the first Sfursat as we know it now was produced.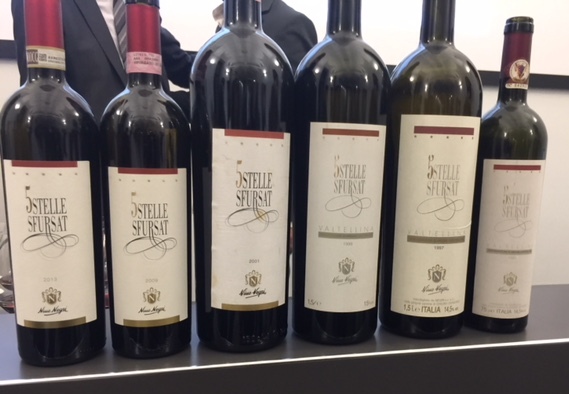 Carluccio had two daughters, Irina and Carla, but since neither intended to follow in his footsteps, in 1969 he sold the winery to the Swiss company Winefood. Carluccio kept working at the estate but asked the new owners to bring in an enologist to help him in the winery. Since he knew the head of the San Michele all'Adige wine institute, Carluccio asked him to send him their best pupil. And so in 1971, Casimiro Maule arrived in Valtellina to work at Nino Negri. In 1986, the winery was acquired by GIV (Italian Wine Group) that made investments to relaunch it and in 1989 they won their first important recognition by winning a gold medal at the Challenge international du Vin in Bordeaux with their wine Sfursat 5 Stelle, which Maule created in 1983.
Maule's constant quest for finesse and elegance immediately resulted in abandoning the use of large oak barrels, which made the wines heavy and hard. Next came changes to the maceration process which at the time was not done under controlled temperature and left the wine at risk of pre-mature oxidation. Changes were also made to the drying process that during Carluccio's wine saw the grapes placed in 25 different boxes without any control or monitoring. Today there are only two drying areas and they are fully mechanized and all the grapes are re-inspected and re-selected in November to avoid the grapes from ripening too fast because of thin skins.
For Sfursat 5 Stelle, which was given a DOCG classification in 2003, the grapes dry naturally for 100 days with particular attention paid during the month of October when the weather turns cold. Fermentation (including malolactic) and maturation take place in new French oak barriques where the wine sits for around 20 months.
In order to celebrate the estate's 120 anniversary, Casimiro Maule gave an emotional reminiscence of his years at Nino Negri that included a tasting of six Sfursat 5 Stelle vintages – 2013, 2009, 2001, 1999, 1997 and 1989. He spoke of the hard work and satisfaction he experienced over 46 years at the estate, his great commitment to excellence and how hard work (and not just because the vineyards are terraced) was rewarded by success. He also revealed that the challenges they encountered on the market acted as a stimulus to grow and achieve a level of quality at had been unthinkable at the beginning, placing Valtellina into the limelight of Italian wine excellence.
Nino Negri
Nino Negri
Owner: Gruppo Italiano Vini
Via Ghibellini, 3
23030 Chiuro (SO)
Tel. +39 0342 485211
Fax +39 0342 482235
n.negri@giv.it
www.ninonegri.net
Year of foundation: 1897
Total Bottles Produced: 800.000
Hectares of vineyard: 36
Related Products