Acininobili Maculan, a predisposition for sweet wines (2)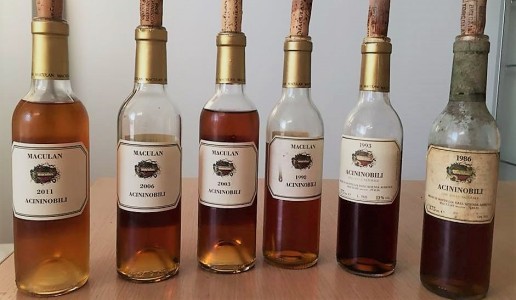 After decades of evolution, Maculan's Acininobili expresses its character in a combination where the terroir contributes the acidity and the botrytis the complexity.
Yesterday, we looked at the area of the Colli Vicentini and, in particular, the area of Breganze in regard to the Vespaiola grape that, when dried or raisinated, is used to make the sweet wine Acininobili from Maculan, the leading winery in the area.
Today we conclude our interview with Fausto Maculan and follow it with a vertical tasting of this very particular sweet nectar.
DoctorWine®: After making Acininobili now for several decades, would you say it expresess more the territory of the mold?
Fausto Maculan: Its evolution over the decades has created a combination where the terroir contributes the acidity and the botrytis the complexity.
DW: Among Italy's leading wineries, Maculan is the one that pays the most attention to producing sweet wines. Where does this predisposition come from?
FM: Sweet wine is a special wine that needs particular attention and care. This should never be underestimated and by now we are specialists in this! Initially, we chose to focus on making Torcolato (another sweet wine made by the winery not using botrytized grapes, ed.note) to use as a calling card outside our area because it was a unique wine that is only made here. It was a commercial choice designed to give us visibility. This was something that only we could do and for years it was our strong point. Since we always strive to do our best, we understood which technical phases deserved greater attention. We experimented on ways to best dry the grapes and obtained an intricate knowledge of the yeasts. By doing this the problems diminished and the results improved.
DW: At present, botrytized wines are not that popular in Italy. Do you think this is because there has been an absurd demonization of sulfites; to the fact that they are sweet/dry wines – thus difficult to pair - or some other reason?
FM: Like everything it is a question of fads or better trends. During an economic crisis like the one we are going through, people tend to spend less on restaurants. Added to this, people are trying to contain their consumption of alcohol to stay below the legal limit for driving and thus many are forgoing drinking a dessert wine. I don't think sulfites have anything to do with this.
All the following wines are only made with botrytized Vespaiola and mature in new barriques for two years.
Related Products
Related Articles