American Jasper from Birrificio La Piazza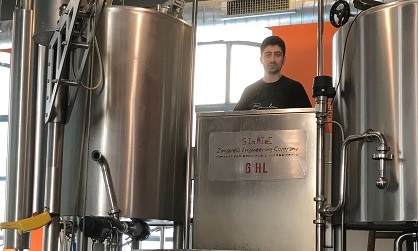 This is an "Americanized" version of Jaspar, a German-style Pilsner, from the La Piazza brewery and it has personality, great freshness and is easy to drink.
Some breweries are well-known while others are more local and far from the limelight. A case in point is Birrificio La Piazza that is inside Turin's Piazza dei Mestieri (Square of Trades) complex that brings together productive activities (bakery, chocolate factory, restaurant and printing press just to name a few) with educational ones to allow student to learn a professional trade through hands-on experience.
The brewery's style is under the firm control of master brewer Riccardo Miscioscia and production manager Gianluca Poggio. All the brews are low fermentation, use a single yeast and made under Riccardo's maniacal control. Great attention is paid to maturing the beers, maintaining consistent quality and creativity, which results in a good number of seasonal as well as one-shot or one-off brews. At the same time, efforts are always made to improve every wort and every beer without changing their essence.
The brewery is located in the zone of San Donato and it is only a stone's throw from a place that used to be home to one of Turin's historic breweries, Metzger, which shut down some 40 years ago. The majority of beers produced are consumed in Turin at a pub on Via Durandi, right next to the still, and its spinoff on Via dei Mille. It can also be found on tap elsewhere in Italy although it is easier to find in bottles.
Adapted from an article in Cronache del Gusto.
Related Products