Chimay Grande Réserve, warm and mellow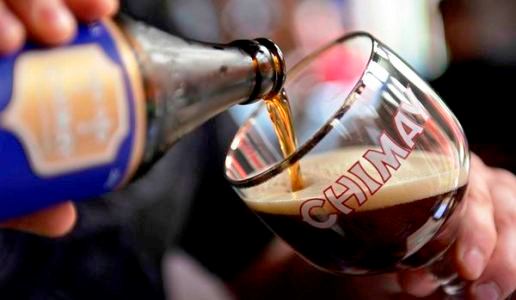 Originally named Chimay Blu in 1956, it is now labeled as Grande Réserve and it is perfect for winter: a warm, mellow and satisfying beer.
With the Siberian cold front that swept Italy the desire arose for a nice Chimay Bleu, which came out in 1956 as a Christmas brew and thus did not have a particular style of reference, except for its generous alcohol content. This is a beer to warm your body and soul on a cold winter's day. Since 1982, it has also been available in 75cl bottles and today you can find it as well in Magnum, Jéroboam and Mathusalem bottles, although in this case it is labeled as Grande Réserve.
The Chimay brewery was founded at the Scourmont Abbey in 1850 by a group of monks who also produce cheese. Production had to start from scratch after World War I because German forces had sacked and destroyed whatever they came across. Rebuilding the brewery was no easy task but Chimay gradually recovered and consolidated its market position by creating new beers and ensuring quality and consistency. To do this Father Théodore studied modern beer, new methods and new recipes and towards the end of the 1940s he pinpointed the type of yeast that continues to be used today to transform the must. His microscope is still there, a fascinating museum piece that sits among the other instruments in the modern Chimay laboratory inside the brewery. It is a reminder of how the Chimay "touch" was created using that yeast which has distinguished every different brew and all production for over half a century.
Today, Chimay continues to be a link with tradition and thus with the work of Father Théodire and this means there have been no radical nor profound changes. This Trappist brewery has other priorities.
Utmost attention is paid to the environment with the containment CO2 emissions through the use of solar panels, a wind farm built around the brewery and recycling heat created by the brewery, which is also used to heat the cells of the monks for the first time since the monastery was built. Great attention is also paid to the wellbeing of staff modern machinery is employed to improve working conditions, boost productivity, improve quality and even, if possible, hire new staff without reducing employment levels. The latter because the Trappists are an order dedicated to charity.
In line with this was the decision to move the cheese factory and bottling plant outside the monastery walls that proved to be pragmatic not only because it allowed for boosting production, rationalizing space and thus improving working conditions and increasing quality control, but it also created a new craft sales center to the economic benefit of the whole area.
All this is what is behind the hexagonal label – clearly present on every product made at the Trappist abbey – that guarantees it is an Authentic Trappist Product. And this all that the term "Trappist beer" indicates. It does not refer to any style and has nothing to do with flavor, only that the monks oversee production and the profits are not used to enrich the monks, who do not drive Ferraris, but to help them serve others, support themselves and those who work for them.
Taken from Cronache di Gusto
Related Products