The versatility of Garganega
This native Vento grape is found in all the region's appellations and its original characteristics should never be taken for granted.
A white and native Veneto varietal par excellence, Garganega best expresses itself in the provinces of Verona and Vicenza. If you are a Veneto native, you cannot not have heard of it and have tasted it at least once in your lifetime. More than likely, you have done so without knowing it since it is found in most of the Veneto region's more famous appellations.
In the area of Lake Garda, with its morainic soil, it makes up much of Custoza DOC.
East of Verona, the varietal adapts perfectly to the white, chalky soils that produce an infinite number of IGT wine interpretations. The soil is volcanic calcareous in Soave where the grape produces Soave DOC and Recioto di Soave DOCG. And it is in this zone that, thanks to the grape's capacity to express itself differently depending on the terroir, the Soave Cru project was born, thanks to the results of new studies on the varietal's metabolic profiles carried out by the University of Piacenza for the Soave producers' association.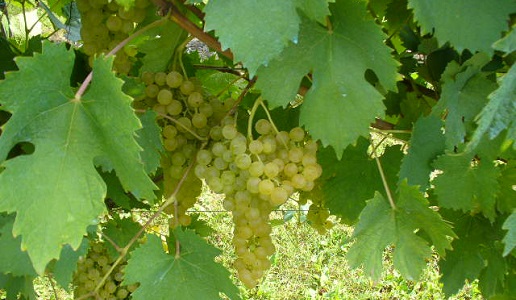 In the province of Piacenza, where the soil is also mixed but for the most part calcareous, the grape produces Gambellara DOC and Recioto di Gambellara DOCG, which stand put for being particularly bold and concentrated.
An easy and quick explanation why this varietal is so widespread and loved has to do with its enormous bunches that make it quite productive (even if each appellation has limits on yield). Aside from being large, the bunches are also sparsely situated allowing the grapes to be healthy and suited for becoming overripe and subsequently dried. As harvest approaches, the grapes develop more color and from green becomes almost amber while the period selected for harvest conditions many of the grapes sensorial aspects. The grapes like to be pergola-trained, which protects them from getting burned by the sun, but it also adapts well to being Guyot-trained. As we said before, this varietal expresses itself well in different geopedological scenarios. It has neutral aromas and flavors (until it is fermented), ripens fairly late (towards the end of September) and overripens easily.
Among this grape's many positive characteristics, what interests me are its original characteristics that should never be taken for granted. Garganega, in fact, is a varietal that I like to define as a white grape that has "fun" playing like a red one. In other words, it has no problem with wood and can macerate long, both before fermentation and during cold fermentation, and can be "vinified like a red".
Vinified like a red refers to fermenting the must with the pomace and seeds (white grapes can also macerate).
Vinified like a white refers to fermenting the must without the pomace and seeds (red grapes can also be fermented like this).
Vinified like a rosé refers to fermenting the must from red grapes without pomace or seeds after the juice has been in contact with them during pre-fermentation or at the start of fermentation (only red grapes can be vinified like a rosé).
Maceration refers to the grape juice being in contact with the solid parts of the grape (pomace and seeds) pre/during/and post fermentation.
While macerated white wines may be (and may remain) niche wines, here I want to present three of them, two from Verona and one from Vicenza.
The first is from Vicenza, Gambellara Classico DOC 2016 from Cavazza, in the subzone of Creari, after which the wine is named. It is a white that macerates for 12 hours during cold pre-fermentation. The grapes are pergola grown in a calcareous and volcanic soil with traces of tuff and basalt. The other two are from the eastern part of the Verona province, where the Valpolicella DOC and Soave DOC appellations meet, and it does not seem by chance that here, where two excellent red and white wines embrace each other, the Garganega white grape is vinified like a red one. Marinella Camerani of the Corte Sant'Alda estate, a winemaker who embodies biodynamic methods and a woman who is connected to her vineyards like few others, produces Inti, 100% Garganega fermented on the skins in cement vats that also undergoes malolactic fermentation. From Alessandri Benini, an under-30 winemaker at the estate of the same name, comes Vespro Albino, a Garganega vinified like a red with part of the wine maturing in acacia barriques. Both estates have poor and thin calcareous soils, are vintage 2018 and are from Val di Mezzane.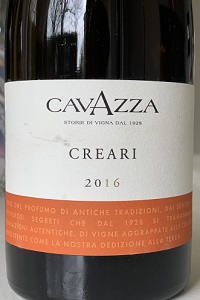 Gambellara Classico Doc Creari 2016 Cavazza
87/100 - € 12,00
Made from 100% overripe Garganega grapes with 12 hours of cold maceration. The wine ferments and matures in stainless steel and has an intense yellow color with amber hues. The aroma is of almond and white flowers with sweet toasted notes and the flavor is dominated by sultana grapes, banana, toasted almond and a hint of saffron. The mouthfeel is full, with sweet sensations, very concentrated and has a medium persistence.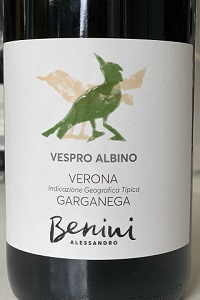 Garganega Verona Igt Vespro Albino 2018 Benini Alessandro
88/100 - € 14,00
100% Garganega fermented on the skins in stainless steel for 40 days with 35% maturing in acacia barriques. A bold, yellow with golden hues and a very sweet aroma of vanilla, honey and white flowers along with white peach and citrus peel scents. The mouthfeel alternates between the sweetness from the wood and a fresh streak from the acidity and the persistent finish has the varietal note of the almond, a nice salinity and is dominated by the tension of the wood with a slightly bitter and clean aftertaste.
Bottle produced: 1,400.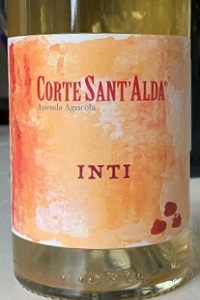 Garganega Verona Igt Inti 2018 Corte Sant'Alda
91/100 - € 12,50
100% Garganega fermented on the lees and skins in cement where it matures and undergoes unfiltered malolactic fermentation. An intense and slightly cloudy straw-yellow color and a bouquet of white flowers like chamomile, sweet and elegant scents and fruity hints of lychees and kiwi. The fresh and taut mouthfeel has a direct attack, a vibrant salinity and a long persistence on the palate with notes of wild mint and licorice, yellow grapefruit and lemon peel emerging in the finish.
(a word of advice: turn the bottle upside down before serving)
Bottles produced: 1,600.
Related Products
Product
Producer
Date of publication
Author
Read
Inti 2018

Corte Sant'Alda
04/24/20
Sissi Baratella
100% Garganega fermented on the lees and skins in cement where it matures and undergoes unfiltered malolactic fermentation. An intense and slightly cloudy straw-yellow color and a bouquet of white...
Leggi tutto
Vespro Albino 2018

Alessandro Benini
04/24/20
Sissi Baratella
100% Garganega fermented on the skins in stainless steel for 40 days with 35% maturing in acacia barriques. A bold, yellow with golden hues and a very sweet aroma of vanilla, honey and white flowers...
Leggi tutto
Alessandro Benini

04/24/20
Redazione
The estate was founded in 2017 by Alessandro Benini, a young and passionate son of wine growers who decided to carry out a project that was already in the works after the war but did not have a...
Leggi tutto
Creari 2016
Gambellara
Cavazza
04/24/20
Sissi Baratella
Made from 100% overripe Garganega grapes with 12 hours of cold maceration. The wine ferments and matures in stainless steel and has an intense yellow color with amber hues. The aroma is of almond and...
Leggi tutto
Cavazza

06/19/17
Redazione

Corte Sant'Alda

12/18/13
Redazione