The best 10 Trentodocs of the 2022-23 season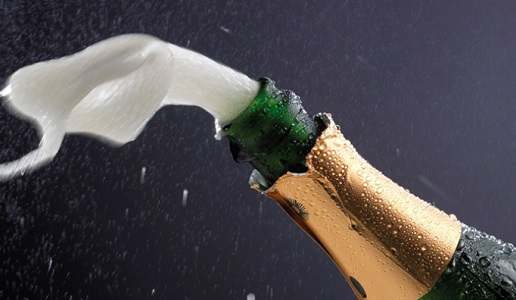 In the mood for sparkling wine? Today and over the next few days we're highlighting the best Italian sparkling wines divided by area of production. Let's start with Trentino.
The Trento area is recognized as one of the most vocated for the production of Italian sparkling wines, and it is from here that some of the absolute champions of our sparkling wines come from. Here are our top 10 Trentodocs, as they emerged from tastings conducted over the course of this year.
This of Trento Doc sparkling wines is the only denomination where the acronym DOC has become part of the name, thanks to the communication work done by the producers' consortium. A unique word that is easy to memorize and sounds good. It indicates classic method sparkling wines that come from hillside vineyards (the vineyard plots designated for Trentodoc production reach up to 800 meters above sea level), vineyards that are really very beautiful and offer remarkable widespread quality.
We are in the Italian homeland of Chardonnay, which is present-alone or combined with Pinot Blanc and Pinot Noir-in practically all the sparkling wines of the area, with the obvious exception of the Blanc de Noirs. We are dealing with balanced sparkling wines, with organoleptic characteristics clearly traceable to the grape varieties of origin. These characteristics are positively influenced by the significant temperature range between day and night, to which the grapes are subjected in the last stage of ripening and which gives the wines that finesse of aromas that characterizes them.
But cut the chatter, here are our rankings, the wines with the same score are in alphabetical order according to producers. To read the organoleptic description of the wines, click on the names.
Translated with www.DeepL.com/Translator (free version)
Related Products
Product
Producer
Date of publication
Author
Read
Riserva del Fondatore Giulio Ferrari Rosé 2010
Trentodoc
Cantine Ferrari
12/28/22
Sissi Baratella
80% Pinot Nero, 20% Chardonnay. Classic method, at least 10 years. Extra Brut. Pink color with garnet hues. Aromas of overripe red fruits, caramel, vanilla, coconut and banana. Coherent taste....
Leggi tutto
Perlé Nero 2015
Trentodoc Riserva
Cantine Ferrari
12/28/22
Sissi Baratella
100% Pinot Nero in bianco. Classic method, at least 6 years. Extra Brut. Straw yellow color with elegant and fast bubbles. Delicate and floral aromas. Savory, agile and soft. Very long in the mouth,...
Leggi tutto
Cantine Ferrari

01/10/12
Redazione
This is simply the best producer of sparkling wine in Italy. It belongs to the Lunelli family who have transformed it into a true jewel both for the quality of its products and the way they have...
Leggi tutto
Altemasi Graal Brut Riserva 2015
Trentodoc
Cavit
12/28/22
Daniele Cernilli
70% Chardonnay, 30% Pinot Nero. Part ferments in barriques and part in stainless steel. Classic method, 72 months. Brut. Lively golden yellow color, thick, elegant and abundant bubbles. Complex...
Leggi tutto
Cavit

12/24/11
Redazione
A great, second tier cooperative that sells and in produces wines from the grapes of its thousands of members which include individual winegrowers and seven smaller Trentino cooperatives. Cavit is an...
Leggi tutto
Quore 2015
Trentodoc Riserva
Letrari
12/28/22
Sissi Baratella
100% Chardonnay. Classic method, 68 months. Brut. Very intense straw yellow color with present and lively bubbles. Evolved aromas, intense, creamy and complex notes of hazelnuts and ripe yellow...
Leggi tutto
Letrari

01/19/02
Redazione
The Letrari estate has been in production since 1976 but its founder, Leonello, was making wine long before that. He is considered to be one of the fathers of Trentino wine who was the first to make...
Leggi tutto
Aquila Reale Riserva 2012
Trentodoc
Cesarini Sforza
12/28/22
Sissi Baratella
100% Chardonnay. Classic method, 100 months. Brut. Straw yellow color with elegant and fast bubbles. Aromas of yellow fruits and delicate spiciness. Complex and tense taste, very agile. Savory sip,...
Leggi tutto
Cesarini Sforza

04/24/13
Redazione
Cesarini Sforza is one of the best-known producers of sparkling wine in the province of Trento and one of the estates that contributed to the creation and success of Trentodoc, an Italian traditional...
Leggi tutto
Erminia Segalla 2014
Trentodoc Riserva
Pisoni dal 1852
12/28/22
Sissi Baratella

100% Chardonnay. Classic method, 82 months. Extra Brut. Intense yellow color. Floral aromas and notes of sweet almonds. Creamy taste, fresh and tense. Nice drinkability, intriguing and complex.

Pisoni dal 1852

02/19/13
Redazione
It seams that since 17th century the Pisoni family gave its wines to Cristoforo Madruzzo, the Prince Archbishop Cardinal. Since then, the family has always made spirits and wines but it's the...
Leggi tutto
Brezza Riva 2017
Trentodoc Riserva
Cantina di Riva
12/28/22
Sissi Baratella
100% Chardonnay. Classic method, 36 months. Pas Dosé. Intense straw yellow color. Fast bubbles. Aromas of yellow fruits, medlar, tropical hints, intense and immediate. Unusual taste, slightly...
Leggi tutto
Cantina di Riva

12/28/22
Redazione
The vineyards are in Riva del Garda, on the lake's northern-most shore. The cooperative was founded in 1926 with the intention of rationalizing the area's agricultural activities. After...
Leggi tutto
Altemasi Blanc de Noirs 2018
Trentodoc
Cavit
12/28/22
Daniele Cernilli
100% Pinot Nero. Classic method, 36 months. Brut. Bright straw yellow color, thick and continuous, slow bubbles. Fragrant and clear aromas of bread crust, pomegranate and wildflowers. Savory and...
Leggi tutto
Letrari 976 Riserva del Fondatore 2011
Trentodoc
Letrari
12/28/22
Sissi Baratella
50% Chardonnay, 50% Pinot Nero. Classic method, 120 months. Intense straw yellow color, evident bubbles. Complex aromas of roasting and fermentation. Astringent taste, long and persistent, notes of...
Leggi tutto
Monsieur Martis Rosé de Noir 2017
Trentodoc
Maso Martis
12/28/22
Sissi Baratella

100% Meunier. Classic method, 48 months. Brut. Pale pink color. Fresh and floral aromas of roses, apricot, berries. Creamy and fresh taste, savory and balanced. Rich and unusual. Long persistence.

Maso Martis

02/19/13
Redazione
A small, family-run estate, Maso Matis has cut out a place for itself among the elite of sparkling wine producers in Trentino and thus in Italy. Situated on a hill above Trento, at an altitude of...
Leggi tutto