The Noir future of Alsace
Alsace is a region identified by its white wines but it also offers some interesting surprises thanks to the Pinot Noir grape.
June 11 to 13 saw the biennial presentation to the press of Alsace wines in Colmar. The region is primarily known for its semi-aromatic or aromatic white wines, 90% of total production, and it was quite a leap this year to focus on those made from Pinot Noir. The idea was not to arrive at a definition of Alsace Pinot Noir, which would be impossible and risked being misleading and as well, but to draw a composite portrait of the only red wine grape allowed in the region and inevitably compare the wine it makes with that of Burgundy.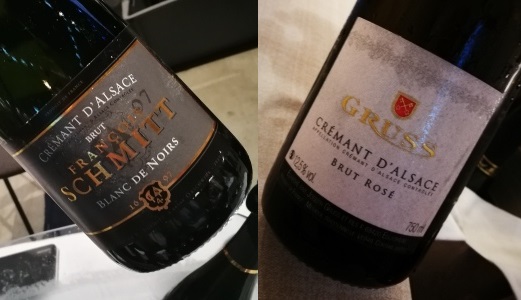 Alsace is a totally incomprehensible mosaic if seen from up close and thus one needs to have a comprehensive and global vision of France's most schizophrenic winemaking area. The region's history, architecture, development, food and wine reflect the centuries-old ping-pong battle between France and Germany to dominate this region, which has given it a fascinating cultural mix.
A few details are needed in order to fully understand a tasting of the region's wines.
Alsace runs from north to south for some 100km, between Strasbourg and Mulhouse, and has some 15,600 hectares of AOC vineyards that produce around 1.1 million hectoliters of wine a year. Although the entire region is situated in northern latitudes, it has a warm and dry climate thanks to its vertical shape being protected from bad French weather by the Vosgi Mountains to the west and to the east from wet German weather by the Black Forest. Alsace is thus the only long plain that inclines west to east, separated from Germany by the Rhine River.
The division of the Alsace appellations is easy to explain: some 51 Grand Cru areas (more are on the way), no Premier Cru ones (but they will be in the future), and only regional appellations and no village denominations allowed. The regional denominations are identified by the varietal and so you have Alsace Riesling, Alsace Pinot Gris and so on.
If we look at the terroir of Volnay we find a presence of 300m2/g of clay, exactly the same as Manbourg, while La Tasche has 400m2/g, just like Richebourg, which means it is suited for Pinot Noir but does imply it necessarily good. In fact, in Musigny the level is even higher but what is important to remember is that Alsace has all the requisites it needs to produce quality Pinot Noir.
Wine is culture and it would be anthropologically wrong to look at it using the logic of another culture. Pinot Noir came to Alsace nine centuries ago thanks to monks from Burgundy and given the time that has passed since then it can now be considered a native Alsace grape.
A substantial difference between Alsace Pinot Noir and that of Burgundy is the use of wood. In Burgundy they use barriques, while the tradition in Alsace is to use large barrels, as they have for centuries in Germany. Only recently have some Alsace wines been made using barriques and the critical praise they have won has encouraged other producers to use barriques.
38% of the Pinot Noir cultivated in Alsace is used to produce Cremant and thus it is important to point out two wines they best represent the territory, varietal and skill in producing sparkling wine: Gruss Crémant d'Alsace Brut Rosé (the nose is composed and tight but the mouthfeel is a myriad of sharp bubbles with a perfect acidic and vertical finish) and Crémant d'Alsace Brut Francois Schmitt Blanc de Noirs (the winery is a master in exalting the scents of the varietals used and in creating rich and rewarding wines, while this particular wine stands out for being pulpy and creamy).
There are four cru that are particularly suited for producing Pinot Noir:
*Bollember (Orschwihr) where three Grand Cru will be produced in the future thanks to a soil rich in iron that makes the Pinot Noir intense bold and intense;
*Hengst (Wintzenheim) closed and muscular wines with a high propensity to age:
*Kirchberg (Ribeauville) elegant and fruity wines but lighter and more minute;
*Pfingstberg (Orschwihr) its sandy soil and cool temperatures are perfect for harmonious and floral Pinot Noir.
The following are some examples of the Noir side of Alsace.
Related Products
Product
Producer
Date of publication
Author
Read
Pinot Noir Tradition 2014
Vin d'Alsace
Domaine Stentz-Buecher
07/10/18
Andrea Zarattini
A soil rich in chalk and sand allow this wine to represent the virtuous harmony of Pinot Noir. This is also the best wine to pass from the stereotype of a Burgundy Pinot Noir to one from Alsace. The...
Leggi tutto
Pinot Noir Herrenreben 2016
Vin d'Alsace
Vins Schoenheitz
07/10/18
Andrea Zarattini
A surface layer of sand sits on a granite base with a high presence of iron. Vintage 2016 is crispy and intense with an aroma of fresh fruit (blackberry, sour cherry and blood orange) and the...
Leggi tutto
Pinot Noir Herrenreben 2015
Vin d'Alsace
Vins Schoenheitz
07/10/18
Andrea Zarattini
Vintage 2015 is broad, airy and floral (carnations, violets and pink pepper) with a mouthfeel rich in sensations, including citrus, blackberry gelatin, redcurrant and hints of toasting, while the...
Leggi tutto
Pinot Noir Rouge comme Renard 2016

Henry Fuchs
07/10/18
Andrea Zarattini
A Pinot Noir that is all nerves and vibrations with bright aromas and flavors and while not that complex it perfectly maintains its promises to the nose: strawberry ice, pomegranate and roselle...
Leggi tutto
Coup de Foudre Pinot Noir 2015
Vin d'Alsace
Domaine Maurice Griss
07/10/18
Andrea Zarattini
Love at first sight, a wine to begin to understand Alsace Pinot Noir. There are no contaminations and it is fragrant with a pale color and a composed structure making it seductively easy...
Leggi tutto
Les Saintes Claires Pinot Noir 2016

07/10/18
Andrea Zarattini
From a vineyard only 0.8ha in size with the soil having chalk on the surface and granite below. The winemaking method is essential: no pumps for transferring the wine, no filtering, open-air...
Leggi tutto
Domaine Stentz-Buecher

07/05/18
Redazione

Vins Schoenheitz

07/05/18
Redazione

Henry Fuchs

07/10/18
Redazione

Domaine Maurice Griss

07/10/18
Redazione Grafica

Domaine Albert Mann

07/05/18
Redazione Grafica