Collio wines in Rome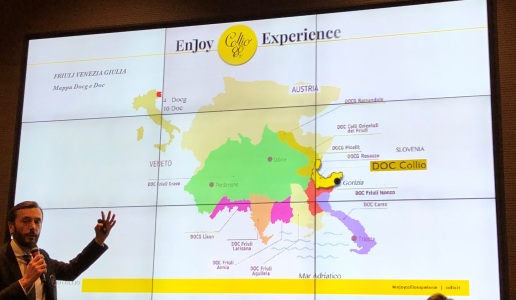 The Consorzio di Tutela Vini Collio producers' association organized a tasting in Rome to better understand the Collio appellation and the particular characteristics of the wines, also in regard to other varietals.
The People, the Wine, the Land was the name of a tasting organized by the Consorzio di Tutela Vini Collio in collaboration with the Rome delegation of the Italian Sommeliers' Association (AIS). The tasting was an itinerary through the appellation of Collio, its characteristics and the propensity the wines have to age and stand the test of time with naturalness and ease. Situated in northeast Italy, Collo is the northernmost appellation to have a Mediterranean climate. It sits between the Judrio River to the west and the Isonzo to the east, 1,500 hectares of vineyards in a landscape made up of rolling hills, small villages and nature reserves.
Collio is distinguished by its mild climate, created by warm Adriatic winds coming from the south and protected from the north by the mountains. But it is above all the soil that gives the wines their trademark, a leitmotif called salinity. It is a salinity created a long time ago by the flysch, a marine geological stratification, and Eocene deposits - of 70 to 38 million years ago – that still exists today in miniscule marine fossils that mold the character of these elegant and fresh wines.
Related Products
Product
Producer
Date of publication
Author
Read
Sauvignon 2012
Collio
Borgo Conventi
04/17/18
Livia Belardelli
This is from Farra d'Isonzo, an island-hill at the feet of which flows the Isonzo River, an area suited for white wines and, in particular, Sauvignon. Made only with Sauvignon grapes with...
Leggi tutto
Leopold Cuvée Blanc 2005
Collio
Fiegl
04/17/18
Livia Belardelli
Produced in the area of Oslavia, near San Floriano, where there are sharp differences in diurnal temperatures. This is a blend of Ribolla Gialla, Malvasia Istriana, Friulano and Chardonnay that...
Leggi tutto
Manditocai 2010
Collio
Livon
04/17/18
Livia Belardelli
Made only from Friulano grapes and matured half in stainless steel vats and half in small barrels. A straw color and a very elegant bouquet with scents of fine herbs, wild mint and slightly toasted...
Leggi tutto
Pradis Bianco 1999
Collio
Carlo di Pradis
04/17/18
Livia Belardelli
A blend of Friulano, Sauvignon and Pinot Bianco with a little Malvasia that matured in wood. A golden color and scents of aromatic herbs and yellow flowers. Despite a hint of oxidation, the...
Leggi tutto
Ribolla di Oslavia Riserva 2007
Collio
Primosic
04/17/18
Livia Belardelli
Made from Ribolla Gialla grapes and macerated on the skins for 26 months. The wine is then transferred to 500-600-liter barrels and 1,500-liter wood vats barrels to continue fermentation on the fine...
Leggi tutto
Malvasia Miklus 2013
Collio
Draga
04/17/18
Livia Belardelli
From the area of San Floriano that hosts the highest vineyards in the appellation. The wine has a straw-yellow color and the aroma has scents of peach and tropical fruit while the mouthfeel is quite...
Leggi tutto
Sauvignon Riserva 2012
Collio
Russiz Superiore
04/17/18
Livia Belardelli
Made from Sauvignon grapes and matured in stainless steel except for 30% which matures in barriques for a year. The wine has a straw-yellow color and a complex and typical aroma with scents of...
Leggi tutto