Alto Adige Schiava: a wine to defend, perhaps save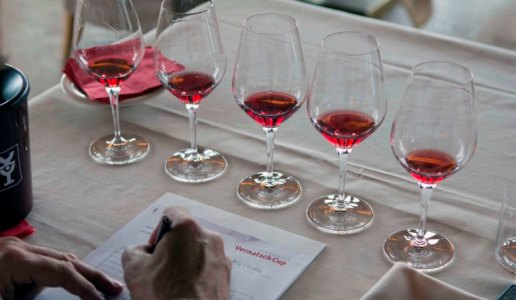 Schiava/Vernatsch has everything it needs to be a popular wine but instead it suffers from a certain disaffection on the part of consumers.
Schava, or Vernatsch in German, is a small mystery in the world of Italian wine. It has all the characteristics necessary to have amazing success among wine buyers: it comes from an area that for years have been one of the most successful; it is produced using one of the most celebrated native varietals that is also into a host of wines with precise characteristics (Lago di Caldaro, Schiava, Meranese and Santa Maddalena); it has a stylistic profile that meets modern tastes: it is very pleasing and easy to drink; it has a relatively low level of alcohol; it can be easily paired with many dishes; in summer it can (and should) be drunk chilled; it has an incredibly favorable quality/price ratio; and, last but not least, wine critics seem to like it.
And yet, when you speak with Alto Adige winemakers, most of them complain that they have problems selling this wine.
A short history of Schiava. The first documentation of this wine dates back to the Late Middle Ages when it was said to be consumed by peasants (aristocrats drank the more full-bodied Lagrein) and over the years it became the most popular wine from Alto Adige right up to the 1960s and '70s, when thanks to the demand from Germany and Switzerland up to 70'% of Alto Adige vineyards were cultivated with the red grape.
Since then it has been in an unstoppable decline right up to today, with the previous 5,393 hectares of Schiava vineyards plunging to 798, while there has been a surge for white wine grapes. The reason for Schiava's decline are many: the price for the grapes does not make it profitable; it is still considered to be a rustic and too simple wine; and, above all, little attention is paid to it – except for some worthy and successful exceptions – on the part of sector operators, the producers themselves, restauranteurs and wine shops who do little or nothing to promote this wine.
Naturally, there exists a hardcore of supporters starting with the organizers of the Vernatsch Cup competition, which this year celebrated its 15th edition, and then certain producers who have made it their flagship wine and Alto Adige journalists like Herbert Taschler, who in October will publish his in-depth book (unfortunately only in German) on Schiava. Being a staunch supporter (and consumer) of Schiava I will refuse to accept its fate as inescapable and here for you is a lovely face-off between some great Alto Adige wines made from Schiava. They can even be consumed during these hot and humid July days as long as they are chilled.
Waldgries AA Santa Maddalena Classico Antheos 2017, 95/100 - € 21
Erbhof Unterganzner AA Santa Maddalena Classico 2016, 94/100 - € 25
Cantina Girlan AA Schiava Gschleier-Alte Reben 2016, 93/100 - € 15
Gumphof AA Schiava Mediaevum 2017, 93/100 - € 12
Pfannenstielhof AA Santa Maddalena Classico 2017, 93/100 - € 14
Wassererhof AA Santa Maddalena Classico 2017, 93/100 - € 12
Cantina di Bolzano AA Santa Maddalena Classico Huck am Bach 2017, 93/100 - € 15
Cantina di Merano AA Meranese Schickenburg 2017, 93/100 - € 12
Castel Sallegg AA Lago di Caldaro Classico Superiore Bischofsleiten 2017, 92/100 - € 10,50
Cantina Cortaccia AA Schiava Grigia 2017, 92/100 - € 10
Cantina di Caldaro AA Lago di Caldaro Classico Superiore Quintessenz 2017, 92/100 - € 12
Malojer AA Santa Maddalena Loamer 2017, 91/100 - € 12
St. Quirinus AA Lago di Caldaro Classico Superiore 2017, 91/100 - € 15
Nals Margreid AA Schiava Galea 2017, 91/100 - € 12
Glogglhof AA Santa Maddalena Classico Vigna Rondell 2017. 91/100 - € 14
Seeperle AA Lago di Caldaro Classico Superiore Waschecht 2017, 90/100 - € 10
Klosterhof AA Lago di Caldaro Classico Superiore Plantaditsch 2016, 89/100 - € 15
Related Products
Product
Producer
Date of publication
Author
Read
Antheos 2017
Alto Adige Santa Maddalena Classico
Waldgries
07/05/18
Dario Cappelloni
Made of several varieties of Schiava and Lagrein grape. Matures 7 months in barrels. Garnet color. Complex and wrapping aromas of licorice, graphite and morello cherry. Rich taste, thick tannins and...
Leggi tutto
Schiava Gschleier Alte Reben 2016
Alto Adige
Girlan
07/05/18
Dario Cappelloni
100% Schiava grapes. Matures 9 months in big barres. Bright ruby red color. Austere aromas with notes of graphite and spices. Rich taste, juicy with very thick tannins but ripe and smooth. Impressive...
Leggi tutto
Schiava Mediaevum 2017
Alto Adige
Gump Hof - Markus Prackwieser
07/05/18
Dario Cappelloni

100% Schiava grapes. ⅔ in stainless steel and barrels for 6/8 months. Bright ruby red color. Coherent and neat aromas of fruits. Juicy taste, very pleasant, rich and savory.

Santa Maddalena Classico 2017
Alto Adige Santa Maddalena Classico
Pfannenstielhof
07/05/18
Dario Cappelloni
Blend of 95% Schiava and Lagrein. Matures in big barrels and stainless steel. Bright ruby red color. Delicate aromas of red fruits and spices. Soft taste, savory, relaxed and very pleasant...
Leggi tutto
Santa Maddalena Classico 2017
Alto Adige Santa Maddalena Classico
Wassererhof
07/05/18
Dario Cappelloni

Blend of 94% Schiava and Lagrein grapes. Stainless steel for 7 months. Bright ruby red color. Intense fruity aromas with a light hint of spices. Elegant taste and very pleasant drinkability.

Huck am Bach 2017
Alto Adige Santa Maddalena Classico
Cantina Bolzano
07/05/18
Dario Cappelloni
Blend of mostly Schiava grapes with a little bit of Lagrein. Matures 6 months in barrels. Light ruby red color. Delicately fruits and fresh aromas. Juicy taste, agile and smooth. The drinkability is...
Leggi tutto
Bischofsleiten 2017
Lago di Caldaro Classico Superiore
Castel Sallegg
07/05/18
Dario Cappelloni

100% Schiava grapes. Stainless steel for 4 months. Pale ruby red color. Delicate aromas of red berries and spices. Elegant taste, fresh and graceful. Juicy and very pleasant drinkability.

Quintessenz 2017
Lago di Caldaro Classico Superiore
Cantina Kaltern
07/05/18
Dario Cappelloni

100% Schiava grapes. Matures 6 months in cement and big barrels. Light ruby red color. Fresh aromas of wild berries and fresh almond. Juicy taste, fresh and with a great progression.

Waldgries

03/25/11
Redazione
Christian Plattner is not only one of the best winemakers in the area of Santa Maddalena, he is also someone who is always looking for new challenges to stimulate his passion for making wine. This is...
Leggi tutto
Girlan

11/11/11
Redazione
The team of Gerhard Kofler and Oscar Lorandi, respectively the kellermeister and the director of this historic cooperative, have in just a matter of years been able to transform this sleepy...
Leggi tutto
Gump Hof - Markus Prackwieser

11/11/11
Redazione
The vineyards of Markus Prackwieser are among the steepest in all Alto Adige but it is here that the young and shy producer from Novale di Presule, at the entrance of Valle Isarco, is year after year...
Leggi tutto
Pfannenstielhof

06/25/13
Redazione
Johannes Pfeifer is without a doubt one of the best producers of Santa Maddalena. His wines stand out for their simplicity, drinkability, typicity and surprising ability to age. Pfannenstielhot,...
Leggi tutto
Wassererhof

12/12/16
Redazione
The estate of twins Christoph and Andreas Mock is relatively new and the first wine produced was a vintage 2013. It is situated at the entrance to Valle Isarco in a beautiful farmhouse that their...
Leggi tutto
Castel Sallegg

07/05/18
Redazione
This historic estate of Count Georg von Kuenburg is located in the heart of the town of Caldaro. It is a splendid castle surrounded by vineyards and run by four generations of the same family....
Leggi tutto
Cantina Bolzano

12/24/11
Redazione
Considered one of the most important winemaking realities in Alto Adige for both its history and the quality of its wines, this winery was created in 2001 through the merger of the Gries winery...
Leggi tutto
Cantina Kaltern

07/13/12
Redazione
This cooperative is one of the two greatest ones in the area and naturally produces wines from the more typical grapes in the district, starting with Lago di Caldaro in various versions all very...
Leggi tutto