Pierre Gerbais L'Originale, the Champagne of Vrai Blanc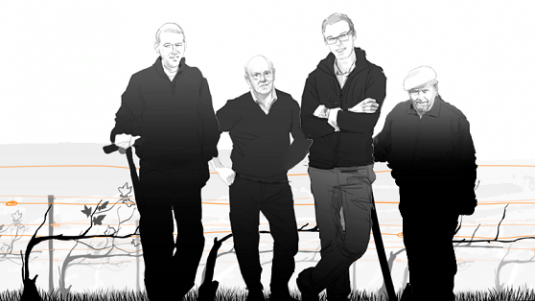 Not all Champagne is made with the princely varietals Pinot Noir, Pinot Meunier and Chardonnay and there exist 'hold outs' who still use other varieties that were present in the region in the past, like Pierre Gerbais and Pinot Blanc. 
The great interest and curiosity in Italy for the Champagne produced by the Récoltants has been rising sharply in recent years and has been accompanied by a careful search for products that are particular and original. This has involved not only lesser-kwon terroirs and villages, 'minor' areas on the outskirts of the great terroirs, but also wines made using grapes other than the sacred trio of Pinot Noir, Pinot Meunier and Chardonnay. Long before Chardonnay became dominant there appears to have been other white grape varieties used in the region, some which survives in the cuvée of a few valiant producers and which stimulates the imagination of wine lovers over what Champagne would be like had these grapes not been abandoned over the years.
Pinot Blanc is one of these varieties and it has inspired some small vigneron like Pierre Gerbais who has maintained some vineyards of it in a village in Cote des Bar, Celles-sur-Ource, in an area situated in the middle of the valleys of the Seine, Laignes, Ource and Arce Rivers. Here, thanks to a particular microclimate and very diverse soils that are much different from the 'classic' Champagne ones, Pinot Blanc has been able to survive where it has not been uprooted to plant varieties that are easier to cultivate and make sparkling wine from. The clay and the chalk are in a particular proportion that allows the grapes to develop a discreet opulence and not just acidity and freshness, while the employment of organic methods (certified in 1996 with Ampelos) ensures a natural balance and harmony with nature.
The pioneer of the family was Ulysses who survived two world wars and was so in love with Champagne that he dedicated his life to the vineyard and experimenting in winemaking. But the true founder of the estate was Pierre Gerbais who, following in the footsteps of his uncle Ulysses and father André, studied the terroir and the particular characteristics of the soil which led him to continue to cultivate Pinot Blanc, which here is called Vrai Blanc. His son Pascal has continued a sustainable approach in the vineyard using integrated methods rather than pesticides in the estate 18 hectares while the youngest family member, Aurèlien, has joined him in production to maintain the 'original' history of this family.
Cuvée L'Originale was created to underscore the philosophical choices made in both the vineyard and the winery. This is a Champagne made using Pinot Blanc from a vineyard planted in 1904 in a cru called "Les Proies". Here the vines have their roots in a Kimmeridgian soil with marl and chalk, a composition quite common in Cote des Bar, and Pierre Gerbais created a champagne (only 3,000 bottles) that is a gem for curious wine lovers who are fascinated not only by the wine's rarity but also by how unconventional it is. This is decidedly an unusual Champagne (available in Italy through Caves de Pyrene) which has divided wine lovers into those who fully understand why Pinot Blanc was abandoned in favor of the elegant Chardonnay and those who find it fascinating, unique and capable of being a totally 'original' expression of a terroir with countless nuances.
Related Products