Chiarli's Traditional Method Quintopasso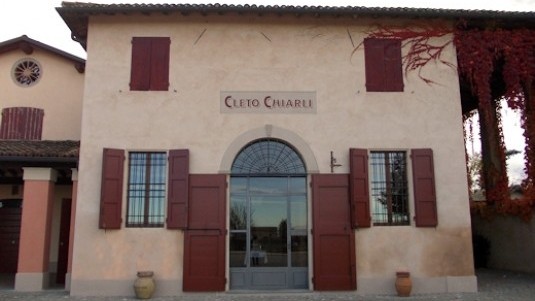 With this traditional method wine, Chiarli strives for style but always with a touch of territoriality. Quintopasso Paradiso Brut is a blend made by the Emiliana family using Chardonnay with a lesser amount of Sorbara. 
When it comes to Italian sparkling wines people often forget to mention the area of Lambrusco in the region of Emilia, between the provinces of Modena and Reggio Emilia. Here a natural inclination towards experimentation in winemaking has resulted in a certain expertise in secondary fermentation in the bottle that is typical of the traditional method. And while some go no further than the old ancestral method, with some of the lees left in the bottle after secondary fermentation, others have learned to master a more pure interpretation of the traditional method.
A case in point is Cleto Chiarli, an estate that made history in the area of Modena and Lambrusco using the Charmat method with Lambrusco Grasparossa, to make Vigneto Cialdini, and Lambrusco Sorbara for the celebrated wine Vecchia Modena. The Chiarali family began using secondary fermentation in the bottle at the beginning of the second half of the 19th century and it resulted in the celebrated Lambrusco del Fondatore, an exquisite example of how the elegant varietal Lambrusco di Sorbara can express its personality in a less immediate and more original way, with a distinct acidic backbone and an exuberant fruit that makes way for more complex notes.
Since 1860, five generations of the Chiarli family have made their contribution to their wine estate step after step. Quintopasso (Fifth step) is a reference to this entrepreneurial path and represents the crowning achievement of the fifth generation, represented by the five cousins involved in the family estate: Carlo, Giorgio, Stefano, Giovanni and Tommaso. Today the goal for their traditional method is to achieve style but always with a touch of territoriality. The result is this Cuvée Paradiso Brut, a traditional method blend of Chardonnay with a lesser amount of Sobara.
Cleto Chiarli  
Owner : Famiglia Chiarli
Via Belvedere, 4
41122 Castelvetro di Modena (MO)
Tel. +39 059 3163311
Fax +39 059 313705
italia@chiarli.it
www.chiarli.it
Facebook : chiarli1860
Year of foundation : 2001
Total Bottles Produced : 900.000
Hectares of vineyards : 100
Related Products