Berlucchi '61 Nature 2009, standard bearer of Franciacorta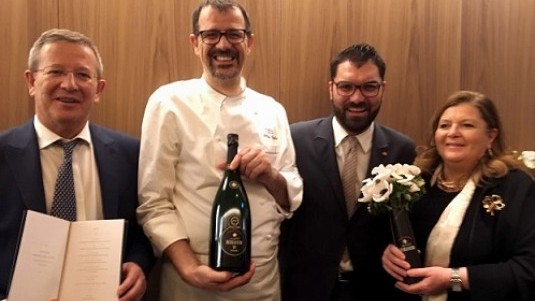 The name Guido Berlucchi is a pillar in the world of Italian wine and is was undoubtedly also thanks to the dedication and entrepreneurial talent of the Ziliani family that Italian sparkling wine has achieved such excellence. The history of this producer, and in reality that of all Franciacorta, owes its success to the pioneering activity of enologist Franco Ziliani and, later, his children Arturo, Cristina and Paolo, who today are true ambassadors of Franciacorta.
It was, in fact, Franco Ziliani, together with Guido Berlucchi and Giorgio Lanciani, who first experimented with the traditional method of making sparkling wine in Franciacorta, producing the first cuvée Pinot di Franciacorta Méthode Champenoise. And it is to that year that the Berlucchi '61 line is dedicated and today a new wine, Berlucchi '61 Nature Millesimato, has been added to a line that includes a Satèn, Brut and Rosé.
After more than 50 years, Guido Berlucchi continues to evolve, above all in regard to the vineyards that have been converted to organic cultivation. And the attention paid to the vineyard has allowed Arturo Ziliani to select from vineyards in Franciacorta and Provaglio d'Iseo, which have an average age of 15 years, the most apt grapes to produce this new Franciacorta Nature. The particularly good harvest of 2009 facilitated the creation of this Chardonnay blend with some Pinot Noir that spent 60 months on the lees to obtain balance and complexity.
As destiny would have it, the Ziliani family decided to present this new Franciacorta to the press accompanied by a full meal created by Chef Antonio Guida at the Seta del Mandarin Oriental restaurant in Milan. The meal was an adventure through intense flavors, with a particular aromatic richness and a kaleidoscope of sensations, all steadily upheld by the effervescence of Berlucchi '61 Nature 2009, making the potential of this new label clear to all those present. No longer just an aperitif or something to celebrate a moment, the Franciacorta of Guido Berlucchi is now ready for the table with this new and interesting standard bearer, a sparkling wine that according to Arturo Ziliani "incarnates the purest expression of the land, describing its truest and most genuine soul".
Related Products