Agrapart and its Cuvée Minéral from old vines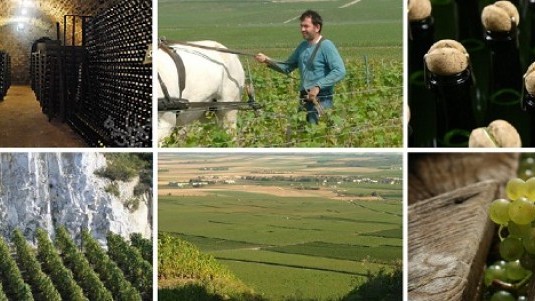 In Champagne, the term minerality has thus come to refer to wines that are particularly taut and sharp, flavorful or with iodine nuances that could indicate a certain chalkiness.
The vexata quaestio of minerality in wine shows no sign of waning, at least in the short term, because from initially being an unknown and enigmatic word it has become a mantra used to underscore what could be defined as a sum of special and not easily definable elements that make a wine distinctive. And it is because of the imaginative power of the term minerality that there is an evident tendency to use it evermore frequently, even in a broader sense which is often far from its original meaning or conception. It is not certain who used the term for the first time in reference to a wine but there is no doubt that Champagne is the area where it is used the most given the distinctive character of the bubbly made in that region. The term minerality has thus come to refer to wines that are particularly taut and sharp, flavorful or with iodine nuances that could indicate a certain chalkiness. In the majority of cases, it implies trait of the terroir and villages the grapes are from, in particular the presence in the vineyard of chalk that is rich in calcite with fossils of micro-organisms of belemnitida origin and marl. Champagne producers themselves use the term 'minerality' to describe their wines even if they appear to be at a loss as to exactly what it means. Experience tells us that the word minerality is used when there are no common aromatic references like floral, fruity, spicy or, in the case if traditional method wines, notes of yeast and bread crust or bottle aging. For sure this term was not commonly used in 1894 when Arthur Agrapart founded his family's Maison in Avize and perhaps not even when his son Pierre expanded it in the 1950s and '60s to its current size of 10 hectares of vineyards, almost all Grand Cru classified.
The Maison has only recently become known in Italy and this thanks to the founder's grandchildren, in particular Pascal who has given a particular style to the vineyards situated between Avize and Oger, Cramant and Oiry. They are composed of a total of 62 parcels with vines that have an average age of between 30 and 40 years and grow in a chalky and gypsum soil. The vines that are over 65 years of age produce a vintage Champagne of rare intensity which Pascal has named Minéral to underscore its dominating 'minerality' that is expressed in chalk notes, those recalling the smell of damp stones after a rainfall and, above all, the note of iodine in the aftertaste. The cultivation of Agrapart grapes is neither organic nor biodynamic certified and their connection with the terroir and the soil is direct and immediate in a harmony that, as Pascal loves to repeat, must be continually reinforced by working the land to bolster the capacity of the roots to draw from the micro-organisms in the soil.
Minéral has been a success from the beginning and today remains an important vintage Champagne made from Chardonnay grown on old vines in Avize and Cramant, two Grand Cru villages that have a very chalky soil, which accounts for the notes of chalk and damp stones. Given the current trend in Champagne consumption, its name has certainly contributed to defining its identity even if the wine itself is less sharp, taut and precise than what the term originally meant.
Related Products