Presenting Krug Grande Cuvée 168ème Èdition during the Covid-19 pandemic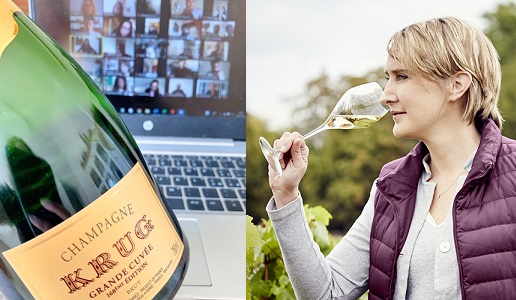 A Grande Cuvée – presented through an e-tasting – recreated following the dream of founder Joseph Krug to make "Cuvée n.1" as the maximum, symphonic expression of a Champagne, in this case based on the 2012 harvest.
"We have long been used to Maison Krug offering unconventional presentations of their new cuvee", observed Moët Hennessy Italia Marketing & Communications director Francesca Terragni. And, in fact, I can recall, not without a certain nostalgia, many extraordinary and memorable ones, equally distinguished by good taste and refinement. These include the presentation "In the sea" in Portofino and the "KrugxMusic" concert by Jacky Terrasson in Milan's the 19th century Fonderia Napoleonica Eugenia, organized by Roberta Antonioli and her PR team who for years have worked for the brand.
And so, in these times of Covid-19 quarantine, amid all the messages cancelling events, came a Save the Date email: "Event location: @Zoom Krug Room. Dress code: home smart casual". The first online, official press presentation organized by a Champagne Maison took place on April 15 with some 40 wine journalists and bloggers connected through the Web with Olivier Krug, the sixth family generation, and Julie Cavil, who has been the Maison's enologist since 2006 and is now their new Chef de Cave taking over after the long tenure of the great Eric Lebel, with whom she worked alongside for 13 years.
This passing of the torch between Eric and Julie had been in the works for a long time and I had often met with her at the Maison, especially for the presentation of Clos du Mensil, for which she was responsible from the vineyard onwards. And this changing of the guard was particularly significant in view of the outbreak of the Covid-19 pandemic and its repercussions. Julie Cavil, in fact, told us how this has made even more difficult the tasks of tasting and composing the latest Grande Cuvée, the 175ème Èdition based on the 2019 harvest. Tasting teams had to be separated in different rooms to respect the criteria of social distancing, a vast number of meetings were staged from home to process an enormous amount of information (which thanks to technology was incorporated into a super database where each vineyard parcel was described in detail and linked to a vin clair) and in the end the tasting teams made a final evaluation of the three blends proposed by Julie to decide upon which will be remembered as the Grande Cuvée of the year of the pandemic.
As for the global launch of the 168ème Èdition, Olivier underscored how he had never "visited so many places in such a short period of time," in reference to the many e-tastings organized to present the Maison's latest creation. These involved a monitor, a glass, rigorously Joseph Riedel created to exalt the tasting experience, and last but not least the right music, because it continues and bolsters the Krug x Music project, which again saw the collaboration of Ozark Henry for this 168ème Èdition.
A Grande Cuvée recreated following the dream of founder Joseph Krug to make "Cuvée n.1" as the maximum, symphonic expression of a Champagne, in this case based on the 2012 harvest which was limited but of excellent quality. Julie Cavil recalled how everything that could happen, happened that year, from frosts to powerful storms, hail and a drought that was the most severe during the period the grapes were ripening since 1974, which resulted in a 20% drop in yield. So much so, she pointed out, that it was not possible to produce a Krug Vintage 2012 nor enrich their 'library' of vins de reserve, in particular that of the Chardonnay from Côte des Blancs. This was only in part bad news because it made it clear that all the best grapes were used for this Krug Grade Cuvée 168ème Èdition, which was a blend of 198 wines, 58% from the 2012 harvest and 42% reserve wines, from the Maison's vast collection of ten vintages dating back to 1996, and was composed of 52% Pinot Noir, 35% Chardonnay and 13% Meunier.
I, personally, consider this to be an extraordinary Champagne that I described in an e-tasting as "pure compressed energy" but with all the elements it needs to ensure a great future. A star is born. Literally: as when the atoms of luminous elements are crushed by sufficient pressure to allow their nuclei to fuse.
Krug Grande Cuvée 168ème Édition
98/100 - € 210
Krug iD 219012 – 52% Pinot Noir, 35% Chardonnay and 13% Meunier, seven years on the lees and dégorgment in the spring of 2019. Compressed energy that explodes in the glass with a gelid freshness and a pure and citrusy tension that with time reveals many aromatic layers and a complexity that ranges from lemon peel to candied ginger, from toasted barley to tangerine juice with a hint of honey and brioche. A pure and taut Champagne, very elegant to the palate with an infinitesimal and delectable effervescence now but that is ready to wait many years to display every aspect of its unique beauty.
Related Products