Riecine, distinctive feature: elegance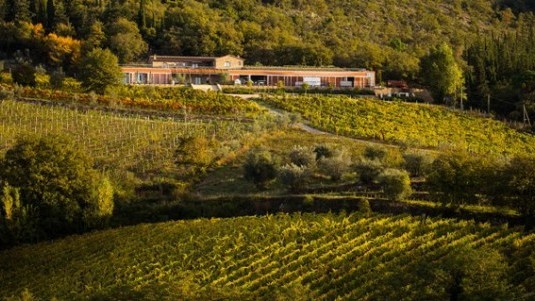 I recently took part at a presentation by Riecine winemaker Sean O'Callagan at Rome's Hotel de Russie of the estate's wines which were paired with some extraordinary dishes prepared by the great Flvio Pierangelini. Aside from being extremely charming, Sean is a key figure at the Tuscan winery which was set up in 1971 by Britons John and Palmina Dunkley. Although also a Briton, Sean was born in Sri Lanka and when still very young moved to Germany where he later studied enology and began to work a small vineyard where he developed an insatiable passion for wine. He was drawn to Italy by the Dunkleys and since 1991 has made his home at Riecine's headquarters in Gaiole in Chianti.
Sean is the estate's fil rouge who gives character and continuity to its wines even when the estate changed hands, first in 1996 when it was acquired by American Gary Baumann and then in 2012 by Russian Svetlana Frank. Over the years, the estate expanded from its original two hectares of vineyards to 21 today with production climbing from 12,000 to 60,000 bottles. And despite the three ownership changes with three different nationalities, the wines have remained the same as have the winemaking methods and the philosophy behind them. Everything revolves around the great terroir and the Sangiovese grapes that are made into three rigorously varietal and different wines with great personality.
The Riecine tasting began with the rosé For Jasper that was followed by a Chianti Classico 2014, a wine that has always been  the estate's calling card, the new Riecine di Riecine 2012 and ended with two vintages of La Gioia, 2012 and 1996.
Related Products
Product
Producer
Date of publication
Author
Read
Chianti Classico 2014
Chianti Classico
Riecine
07/21/16
Chiara Giannotti
A young Chianti Classico but one with body and a great, clean and balsamic aroma with floral notes of violet and dog rose. The licorice in the mouthfeel merges with flavors of red fruit that remain...
Leggi tutto
Riecine di Riecine 2012
Toscana
Riecine
07/21/16
Chiara Giannotti
In this panorama of excellence, I was totally bewitched by this Riecine di Riecine, a captivating Sangiovese, extremely elegant and, while still young, a wine that already has a perfect balance that...
Leggi tutto
La Gioia 2012
Toscana
Riecine
07/21/16
Chiara Giannotti
The lovely tasting ended with La Gioia, a wine that was the brainchild of Palmira Dunkley, a strong-minded and determined woman of Neapolitan origin. What she wanted was to create a great wine with a...
Leggi tutto
La Gioia 1996
Toscana
Riecine
07/21/16
Chiara Giannotti
Elegance, the estate's distinctive feature, is in full force in this wine that has aged gloriously. Its freshness is extraordinary as it perfectly upholds this wine even after 20 years, giving the...
Leggi tutto