Giovanni Iannucci's original "garage wine"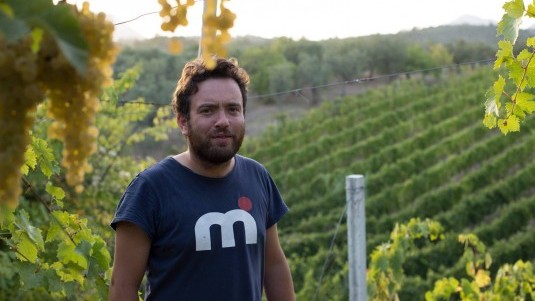 Johnny – Giovanni Iannucci – is a young and original wine producer who with a calm and lucid touch of madness certainly does not lack courage. He conceives, loves, produces and ages his wine in the garage of his home which instead of cars is occupied by winemaking equipment and constitutes a small yet efficient winery.
Johnny is a micro-organic producer, a rare bird in a high-density winemaking area, and owns some three hectares of vineyards split between the areas of Guardia Sanframondi and Castelvenere, the latter a town singled out for having an urban plan that was consistent with the agricultural tradition of the region. He inherited the land from his father who for years had been a supplier to the La Guardiense wine cooperative.
Since 2011, Johnny as opted for cultivating his vines using natural methods, the way his grandparents did, without using any invasive or toxic agents and only green manure as fertilizer. The vineyards are planted with the traditional local varieties of Falanghina, Barbera del Sannio and Trebbiano Toscano. In the winery he uses no select years and sulfites are kept to an absolute minimum.
Collaborating in this natural project is enologist Fortunato Sebastino who – offering his experience – is committed to creating wines that have a strong territorial imprint and are produced according to healthy winemaking traditions, with an eye on preserving biodiversity. This modus operandi has allowed this small estate to join the Associazione VinNatur, which demands that its members follow a strict production discipline that entails, among other things, respecting the integrity of the land, its history, culture and art together with strong ecological ethics.
The craft wines from the Giovanni Iannucci estate are made following a natural and non-invasive style that begins with the selection of the grape bunches during harvest and involves temperature control, brief maceration on the skins and no clarification with only a light filtering. The resulting wine has an intact note of freshness that dominates over the salinity while the mouthfeel is intriguing, rich and original. Production is limited to around 6-7,000 bottles a year.
Giovanni Iannucci 
Via Sorgenza, 87
82034 Guardia Sanframondi (BN)
+39 333 4041049
giovanni.iannucci@gmail.com
Facebook: iannucciaziendaagricola
Related Products