Spiriti Ebbri, beguiling Calabria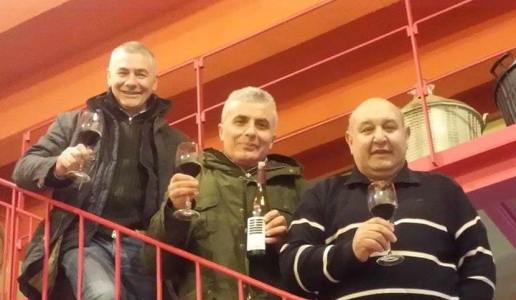 This young and tiny estate is run by three friends who are passionate about producing quality wine.
Engineering manager Pierpaolo Greco (56) and his friends and partners Damiano Mele (51) and Michele Scrivano decided to turn their great passion into a mission to produce a great wine and set up the Spiriti Ebbri (Drunken Spirits) estate in the Pre Sila Cosentina area of Calabria. And they did this with so much passion and skill that their mission was soon accomplished with the bottles that prove they were able to make their dream come true.
Convinced supporters of sustainable farming methods, in a short period of time they were able to produce a surprising line of wines. While they are certainly not opposed to technological progress and do not reach their vineyards riding donkeys, they make every effort possible not to use chemical substances in the vineyards and use only the technology necessary in the winery. Working together they have acquired, studied and experimented with all the factors involved in winemaking thus creating a solid base of knowledge to tackle this complex process. Aside from the quality of their wines, Spiriti Ebbri deserves praise for the contribution they have made in enhancing the value of previously unknown varietals and bringing out their previously unimagined potential.
At present they produce 19,000 bottles a year of seven different wines. I have tasted the full line and was particularly impressed by their expressive force, how pleasing they are and by their structural vigor. So much so, in fact, that I have no qualms about recommending this emerging reality that we are sure to be hearing more about in the future. The following reviews are of the wines that impressed me the most.
Related Products