The Essential Guide returns to Rome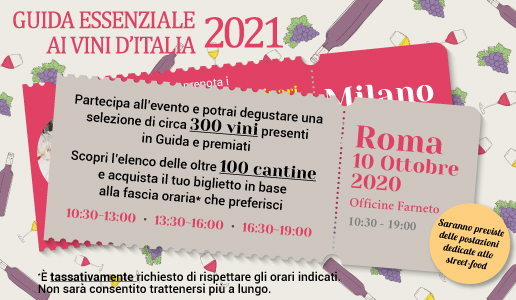 With its 2021 edition, the presentation of the Essential Guide to Italian Wines returns to Rome, on Saturday, October 10 at the Officine Farneto.
After skipping the past two years, the presentation of our Essential Guide to Italian Wines will also take place in Rome. This will be on Saturday, October 10, at the Officine Farneto, on the slopes of Monte Mario, just behind the Foreign Ministry.
There will be an open tasting, divided into three time slots to respect anti-Covid-19 regulations, with over 100 wines offered from some of Italy's best producers. Forecasts for now promise favorable weather which should allow everyone to sample the wines with calm while respecting social distancing. There will also be some street foods stands offering something to nibble on between tastings.
Rome is my home town, it is where I began to approach the world of wine thanks to the now 40-year-old courses offered by the already trailblazing Italian Sommeliers Association (AIS). Thus organizing the presentation of our Guide has been very important for me and I am certain that many wine lovers and sector operatives will be there. I will be there and I hope to see you.
Information in regard to the acquisition of tickets and press accreditation is provided below. I am sure that the rules of caution and common sense, as well those established by law, will respected by all and we are counting on your patience. Once day, things will be back to normal but until the we must take care.
The wonderful wines that you will be able to taste will pay you back with interest.
The producers participating in the Rome tastings are:
ABRUZZO
Citra Codice Vino
Fattoria La Valentina
Fattoria Nicodemi
Il Feuduccio
Masciarelli
Castorani
Tenuta Oderisio
Torre dei Beati
ALTO ADIGE
Cantina Terlano
Cantina Tramin
Cantina Kellerei Girlan
Cantina Merano
Nals Margreid
BASILICATA
Elena Fucci
Re Manfredi Terre degli Svevi
CALABRIA
Caparra & Siciliani
Librandi
CAMPANIA
Il Verro
Sclavia
Villa Raiano
EMILIA ROMAGNA
Cantina Valtidone
FRIULI VENEZIA GIULIA
Valentino Butussi
Castello di Spessa
Livio Felluga
Lis Neris
Pierpaolo Pecorari
Ronco Blanchis
LAZIO
Capizucchi Mater Divini Amoris
Casale del Giglio
Famiglia Cotarella
Fontana Candida
Marcella Giuliani
Sant'Eufemia
LIGURIA
Cantine Lunae
LOMBARDIA
Barone Pizzini
Conte Vistarino
Giorgi
Monsupello
Nino Negri
MARCHE
Casalfarneto
Marotti Campi
Montecappone – Mirizzi
Umani Ronchi
Velenosi Vini
PIEMONTE
Amalia Cascina in Langa
Batasiolo
Bricco dei Guazzi
Ca' Viola
Elio Grasso
Tenuta Santa Caterina
Vietti
PUGLIA
Amastuola
Antica Masseria Jorche
Coppi
Leone de Castris
SARDEGNA
Olianas
Tenute Dettori
SICILIA
Cusumano
Donnafugata
Duca di Salaparuta
Feudo Disisa
Firriato
Mandrarossa - Cantine Settesoli
Palari
Planeta
Tasca d'Almerita
Tenuta Orestiadi
TOSCANA
Antinori
Argiano
Ricasoli - Castello di Brolio
Biondi Santi - Tenuta il Greppo
Boscarelli
Carpineta Fontalpino
Carpineto
Castello di Fonterutoli
Castello di Querceto
Castello Tricerchi
Cecchi
Cesani
ColleMassari
Dei
Dievole
Fattoria di Monsanto
Fattoria di Montechiari
Fèlsina
Fontodi
Giodo
Il Colombaio di Santa Chiara
Le Corti
Le Pupille
Melini & Machiavelli
Piaggia
Querciabella
Rocca delle Macìe
Rocca di Frassinello
Ruffino
Piccini
Tenuta di Lilliano
Tua Rita
Vecchie Terre di Montefili
Vignamaggio
TRENTINO
Cavit
UMBRIA
Antonelli San Marco
Cantina Todini
Arnaldo Caprai
La Madeleine
Scacciadiavoli
VALLE D'AOSTA
Anselmet
VENETO
Bolla
Emo Capodilista
Costa Arènte
Tenuta Sant'Antonio
Villabella
Zardetto
Here follow the links to get your ticket or press-pass: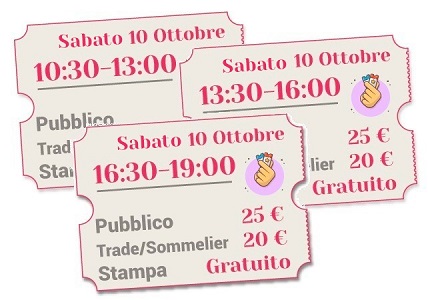 The price of the ticket is 25 euros, 20 euros for trade and sommeliers, etc. The Professional Journalists can get the a free pass. All the participants will get a free copy of The Essential Guide to Italian Wine 2021 and a DoctorWine glass.
- Tickets from 10:30 to13:00 https://shop.doctorwine.it/prodotti/eventi/evento-roma-10-ottobre-fascia-oraria-1030-1300
- Tickets from 13:30 to 16:00 https://shop.doctorwine.it/prodotti/eventi/evento-roma-10-ottobre-fascia-oraria-1330-1600
- Tickets from 16:30 to 19:00 https://shop.doctorwine.it/prodotti/eventi/evento-roma-10-ottobre-fascia-oraria-1630-1900
Related Articles
| | | | | | |
| --- | --- | --- | --- | --- | --- |
| | Presenting the Essential Guide 2021 in times of Covid | 14/09/2020 | Daniele Cernilli | Signed DW | |
| | Special Prizes in the Essential Guide 2021 | 02/10/2020 | Editorial Staff | Signed DW | |
| | The 3 Stars of the Essential Guide 2021 | 29/09/2020 | Editorial Staff | Signed DW | |
| | The Essential Guide to Italian Wines 2021 - the 95/100 Seals | 22/09/2020 | Editorial Staff | Signed DW | |
| | The Essential Guide to Italian Wines 2021 - the 96/100 Seals | 23/09/2020 | Editorial Staff | Signed DW | |
| | The Essential Guide to Italian Wines 2021 - the 97/100 Seals | 24/09/2020 | Editorial Staff | Signed DW | |
| | The Essential Guide to Italian Wines 2021 - the 98 - 99 and 100/100 Seals | 25/09/2020 | Editorial Staff | Signed DW | |
| | The best single-varietal wines in The Essential Guide 2021 | 01/10/2020 | Editorial Staff | Signed DW | |
| | The best wines for quality/price ratio in The Essential Guide 2021 | 30/09/2020 | Editorial Staff | Signed DW | |
| | Summing up the events in Milan and Rome | 23/09/2020 | Stefania Vinciguerra | Wine world news | |