Presenting the Essential Guide 2021 in times of Covid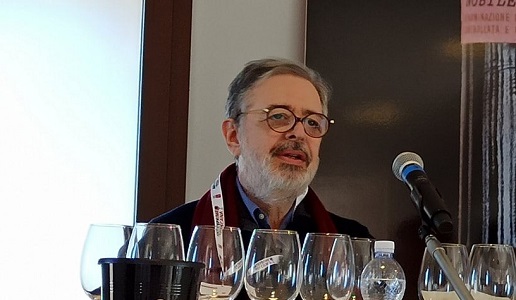 A series of seminars with subsequent tasting counter managed by sommeliers, limited to those enrolled in Milan; an open tasting with compulsory social distancing in Rome.
We have already explained how we will organize the awards ceremony and the presentation of our Essential Guide to Italian Wine, in Milan at the Hotel Principe di Savoia on October 3 and 4, but perhaps it would be best to do so again. Both events will take place at the same venue but at different times. The first will he held on the morning of Saturday, October 3, starting at 10am, and will be dedicated to awarding the prizes. We were forced to invite many fewer people than last year due to the regulations regarding social distancing which means there will be only around 100 guests. These will be those who received the special prizes, those who received a DoctorWine "faccino" seal of approval with the highest point ratings and the winners of the best wine in their category, while everyone else can follow the ceremony on our social media outlets.
This will be followed by an event open to the public but it will be staged much differently from last year. We will not hold, because it is not allowed, the usual wine tasting because setting up the tables would create too much crowding which raises the risk of contagion. What we will do is stage a host of seminars, with the wines of participating producers, which will be staggered over time and will rigorously respect the norms on social distancing. These will begin Saturday afternoon and continue on Sunday, October 4, always at the Hotel Principe di Savoia. They will be conducted by DoctorWine staff, namely myself and the more important contributors to the Essential Guide. Each seminar will present a dozen or so wines and last an hour. At the end of each seminar, participants will be allowed into a hall with large windows, which will be open to let in fresh air, where they can sample a second wine from the wineries taking part in their seminar and hopefully some of those from other seminars.
The local chapter of FISAR (Italian Federation of Sommeliers, Hoteliers and Restauranteurs) will organize the service. All participates will be called on to collaborate by wearing masks until they are seated, respecting social distancing and following the rules of common sense and caution. Producers who have a wine involved in a seminar will obviously be allowed to take part and need simply register. We will soon present instructions on how to take part in a seminar along with the subjects of each seminar and the wines that will be presented. This year we could not do otherwise and we really hope that many wine lovers, sector operators and DoctorWine readers will sign up also to show their support and our common desire to somehow get back to normal. These are difficult times and organizing these events was no simple matter. We are doing the best we can and hope that everything will come off smoothly. Above all, we hope to see many people, passionate and disciplined, who we will not be able to embrace the way we would have liked but with whom we hope to spend some time talking about the wines we have to offer.
We will repeat the presentation in Rome, on October 10, at the Officine Farneto where we will be outside and so the restrictions will be less stringent. Thus the wine tasting will be more normal and having tasting tables. Nevertheless, it will be important to wear masks when possible and respect social distancing.
We will do what we can and if you're with us everything will be easier and, in the limits possible, fun. We hope to you there.
Related Articles