A couple of words about our 7th edition of The Essential Guide to Italian Wines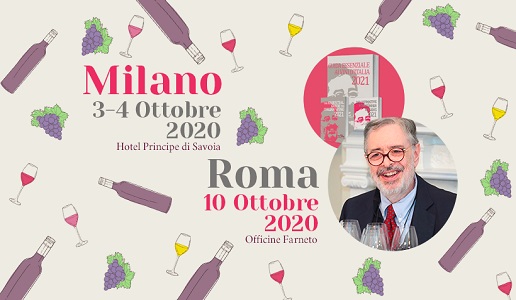 The three editions of our guide (Italian, English and German) are just now beeing printed, so we can make some considerations and draw the sums.
This seventh edition of the Essential Guide to Italian Wines was the most difficult to compile for reasons you can well imagine. In a dramatic situation as the one we are living through it was very difficult to organize tastings, evaluate wines and visit estates. Most of the more important public events were canceled and thus the opportunity they offered to taste wines did not exist.
My contributors and myself had to work without the possibility of face-to-face encounters and in many cases producers presented the same wines as last year. The virtual collapse of wine exports, the closing down of many restaurants and many wine shops resulted in a drop in sales with very evident consequences. Thus a small percentage of wines presented in this year's guide, around 5%, were those for which we had received samples of and had already evaluated for last year's edition. We thought it right to represent them because they are wines that will still be available on the market for many months to come. Thus including them in this selection represents a service to our readers as well as for the wineries involved.
Another factor that should be underscored is that this year we tried to have an approach that was less drastic in regard to prizes and honorable mentions. The DoctorWine Seal assigned were much more than for other editions and this for different reasons. The first is that there was a significant number of extraordinary wines, thanks to a particularly positive harvest, among the leading Italian red wines: Barolo 2016 and Brunello di Montalcino 2015, in particular but not only. Then there is the fact that in a moment when the world of wine is in difficultly, we thought it unfair to be too strict.
We talked about wines more than judging them and by doing this we tried to lend a hand to the world we love, which is that of quality winegrowing and winemaking in Italy. We did make judgements, of course, but with a smile on our faces, more like the wine lovers who read us and honor us with their attention. While we may be open to criticism for this, we did not think the time was right to be severe school teachers. Thus we tried to pay more attention to lesser-known wines that are visibly on the upswing and, in any case, all the wines that were given a DoctorWine Seal were those we could vouch for without any trouble.
In any case, being included in our selection of wines is a prize in itself, considering that there are just over 3,000 from around 1,200 producers. Among these are almost all the icons of Italian wine, which is not always the case, and this is another reason why the evaluations were higher. If the great wines presented were particularly emblematic versions, it is reasonable and even a duty to recognize this and give then a prize.
Related Articles