Whole-wheat spaghetti with a peppers and anchovy pesto sauce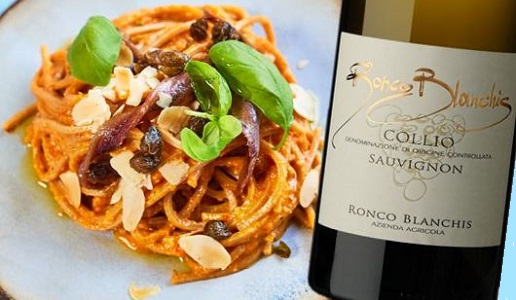 A flavorful summer dish that we pair with a Collio Sauvignon 2021 Ronco Blanchis.
Ingredients for 2 people:
200g whole-wheat square spaghetti, 4 + 2 MSC certified Cantabrian anchovies, 1 large red pepper (or two small ones), 50g sliced almonds + 10g for garnish, 40g Parmigiano, 1 garlic clove, extra-virgin olive oil, 1 tablespoon salted capers and 4 basil leaves.
Directions:
Roast the pepper in the oven at 200°C for around an hour then close it inside a paper bag or a pot with a cover and let it cool. Once the pepper is cold remove the skin and seeds.
Place inside a blender the pepper that has been cut into strips, 4 anchovies, 50g sliced almonds, the Parmigiano, the garlic clove from which the germ has been removed and two basil leaves. Blend while trickling in some EVOO to obtain a creamy pesto sauce. Add salt and pepper to taste and keep to the side.
Boil the spaghetti until it is al dente (slightly undercooked) and then drain, keeping aside some of the pasta water.
Mix the spaghetti with the pepper pesto adding some water if necessary to keep it creamy. Add the capers and mix.
Create nests of spaghetti on each plate and garnish with an anchovy that has been rolled up and a basil leaf.
You can substitute the almonds with pine nuts, if you prefer, and omit the garlic if you don't like it.

Wine to pair:
(edited by Stefania Vinciguerra)
Collio Sauvignon 2021 Ronco Blanchis
Sauvignon is an international grape variety, which can be found in many Italian regions. In Collio it is perfectly settled and characterized. This straw-green colored Sauvignon has varietal aromas of elderberry and cedar, with intense fruity hints. To the palate, it is rich and ripe and it highlights its land of origin with fullness, freshness and roundness.
Production area: the hill (Ronco) of Blanchis in Collio - province of Gorizia - formed by Eocene marls.
Grape varieties: 100% Sauvignon, Guyot training system, with 4830 vines per hectare.
Harvest: 10th of September with a yield of 6.5 t/ha.
Vinification: soft pressing of the whole grape, not destemmed, vinification in stainless steel tanks. The following refinement takes place in steel for 7 months.
Alcoholic content: 14% Vol.
Serving temperature: 10-12°C.
Suggested food pairings: Starters in general, raw ham, seafood and seafood sauces.
Related Products