Traditional-style cjarsons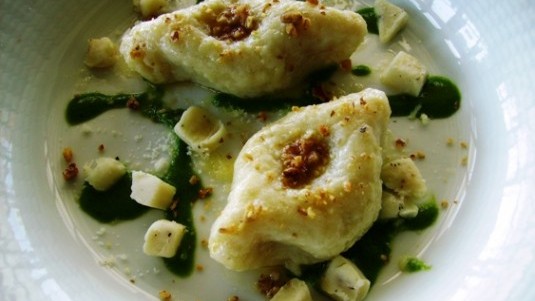 This recipe is from Antonino Venica, the chef at the Castello di Spessa Wine Resort
Ingredients for 4 people: 
For the cjarsons  (suffed dumplings): 500g boiled and mashed potatoes, 125g white flour, 1 whole egg and 1 egg yolk, 10 toasted and roughly chopped walnut kernels (with as much of the coat removed as possible), 2-3 flakes of butter, 1 ladle of vegetable broth, 80g of 'formadi frant' cheese cut into small cubes.
For the filling:  2 tablespoons of Parmigiano, salt as needed, 1 large and firm Bosc pear and 1 tablespoon of fresh ricotta cheese. 
Directions: 
Prepare the filling by grating the pear and then squeezing out the juice using a cloth and a weight (which can be done even an hour before cooking). Mix in the ricotta cheese with the grated pear together with a pinch of salt.
For the dumplings: Quickly mix together the mashed potatoes, flour, eggs and salt and then flatten the dough out with a rolling pin to a thickness of 5mm. Make 12 discs from the dough using a cookie cutter with a diameter of around 7cm.  Put abut 15g of the filling at the center of each disc and then fold each one over and seal well by pressing the edges giving it the classic shape of a wrapped candy.
Boil the cjarsons is lightly salted water until they float. In the meantime, prepare a cream sauce in a broad pan with the butter and a little broth. Remove the cjarsons using a skimmer and place them on top of the cream sauce and finish cooking them.
Put some grated Parmigiano at the center of each plate and on top place the cjarson, covering them with the remainder of the cream sauce. Sprinkle some chopped walnuts on each cjarson and then some small 'formadi frant' cubes.
Fun fact 
Formadi frant is a Slowfood cause and native to Carnia, one of the most naturally unspoiled areas in the Alps. Because of the isolation and extreme poverty of its valleys, its inhabitants developed the habit of wasting nothing that could be used for survival. The production of formadi frant is very artisanal and involves reusing defective mountain cheeses. The fresher cheeses are either chopped up or cut into slices and the more aged ones are grated. Everything is then mixed together by hand adding first milk and then cream, salt and pepper. The mixture is then packed into wooden molds. The cheese varies from producer to producers and can be aged for as little as 15 days and as long as two months. 
Wine to pair: 
Grand Pinot Nero 2015 Collio Doc Castello di Spessa 
Ruby red color. Elegant aromas and fresh notes of wild berries and particularly raspberry. Warm, velvety and with a pleasant balance of thin and delicate sensations on the palate.
Production area: Capriva del Friuli, with flysch (locally called "Ponca") consisting in marls and sandstones.
Grape variety: Pinot Nero, trained with Guyot system, with planting density of 6,000 plants per hectare and grape yield of 6 tons per hectare.
Wine making: grapes are hand-picked the third ten days of August. The grapes are destemmed and fermentation takes place on the grape skins at a controlled temperature of 28-30°C. At the end of fermentation, about 15-20 days later, the wine is separated from the marc and assembled in stainless steel tanks where malolactic fermentation takes place. After malolactic fermentation, the wine is racked and aged in tanks.
Alcoholic content: 13.5% vol.
Serving temperature: 16°C.
Food pairing: suitable for light appetizers From a simple roast chicken to a guinea fowl with truffles or to a tasteful duck breast with pomegranate but also fish dishes likes a salmon fillet with mushrooms and asparagus.
THIS RECIPE IS OFFERED BY CASTELLO DI SPESSA