Tortelli pasta with a Fassone ossobuco fillin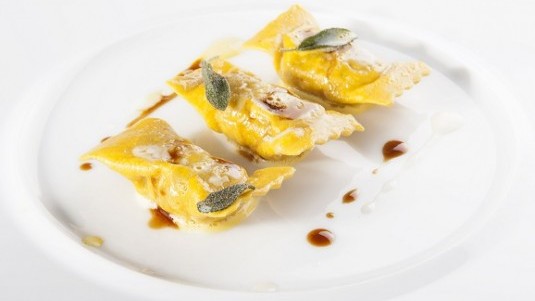 ... in a Parmigiano and Sardinian saffron sauce
This recipe is by Il Luogo di Aimo e Nadia (Aimo and Nadia's Place)
Ingredients for 4 people
300g fresh egg-pasta
For the filling : 200g Fassone ossobuco without the marrow, 10g marrow, 5g onions, 10g celery, 8g carrots, 20g spelt, 1 rosemary sprig, nutmeg and 20g extra-virgin olive oil.
For the sauce : 30g, 50g Parmigiano, 28g breadcrumbs, 0.10g Sardinian saffron stems, 200ml vegetable broth and sea salt.
Directions :
For the filling :
Make a mirepoix (mixture) of carrot, celery and onion. Braise the ossobuco with the mirepoix and olive oil for around two hours. Dice the meat and keep the juice aside.
Melt the butter in a pan and mix in the dampened breadcrumbs, a little of the meat juice and the meat together with a little nutmeg and rosemary. Remove the pan from the heat, let cool and then add the marrow and salt to taste.
Roll out the fresh pasta and make 20 Tortelli ravioli in a caramelle or candy wrapper shape.
For the sauce:
Melt the butter in a pan, add the Parmigiano and blend in the vegetable broth. Divide the sauce into two parts leaving one as it is and making an infusion with the saffron with the other.
Cook the caramelle or Tortelli in salted water and then serve them on a plate with both the Parmigiano sauce and the saffron one together with the rest of the meat juice.
Wine to pair:
Evaluna 2014 Garda Doc Cabernet Sansonina
Deep ruby red color. Enveloping aromas of fresh red fruit, such as blackcurrants, raspberries and blackberries, and spicy notes of liquorice and pepper. A wine with a strong flavor, due to the clay soil south of Lake Garda, full-bodied and harmonious, wrapped in pleasurable hints of herbs.
Production area: the plain south of Lake Garda on medium texture, clay soils.
Grape varieties: 65% Cabernet Sauvignon, 35% Cabernet Franc.
Wine making: harvest in the third ten days of September. The grapes selected on the plant are picked by hand, gently destemmed and fermented in small steel fermenters. During the 12 days of fermentation, the cap is submerged several times a day to extract all the aromas, tannins and polyphenols from the skins. At the end of fermentation, the new blended wine is decanted into a steel tank, where malolactic fermentation and fining occurs before bottling.
Serving temperature: 18-20°C
Food pairing: the ideal match to a wide range of dishes, including game, grilled meat and mature cheeses.