Tagliatelle with vegetable garden aromas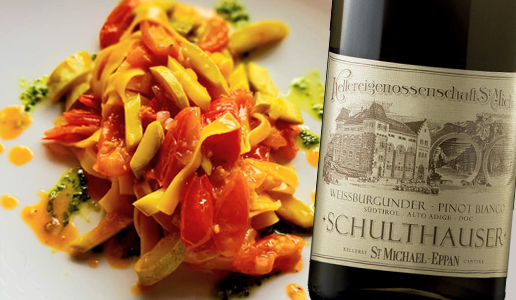 A very simply dish (recipe from Matteo Giudici) for which the freshness and quality of the vegetables used is essential. Pair this with an Alto Adige Pinot Bianco Schulthauser 2020 Cantina Produttori San Michele Appiano.
Ingredients for 4 people:
For the Tagliatelle: 200g type 0 flour and 100g semolina flour, 2 egg yolks and 3 whole eggs.
For the sauce: 1 red onion, 3 zucchinis, 300g small tomatoes, 100g pumpkin flowers, 4 tablespoons extra-virgin olive oil, salt and pepper as desired, 2 garlic cloves, a few basil sprigs, a dash of white wine and a tablespoon of fresh basil pesto.
Directions:
Add to a pan, preferably aluminum, 4 tablespoons of EVOO, the garlic, basil sprigs, the red onion that has been cut brunoise style, a tablespoon of water, a pinch of salt and a drop of white wine, all at room temperature. Cook at a low heat for a dozen or so minutes until the onions soften.
Add in the tomatoes that have been cut into strips and turn up the heat, sautéing everything for a couple of minutes.
Add the zucchinis that have been cut into thin wedges and cook for another 4 minutes. At this point, add the pumpkin flowers that have been washed and cut into strips and turn off the heat. Remove the garlic and basil sprigs.
Boil the pasta in salted water until it is al dente (about 2 minutes before the recommended cooking time). Put the pasta into the sauce pan to finish cooking, adding a little of the pasta water.
Serve the pasta with each plate garnished with a dab of fresh basil pesto.

Wine to pair:
(edited by Stefania Vinciguerra)
Alto Adige Pinot Bianco Schulthauser 2020 Cantina Produttori San Michele Appiano
Straw yellow color with a green shimmer. Clean fruity notes of apple, apricot and pear to the nose. Lively and balanced to the palate with a fruit-incised creaminess.
Production area: Vineyards at Schulthaus, above Moos Castle, in Appiano/Monte (540-620m). Exposure: Southeast. Soil: Limestone gravel with clay.
Grape variety: Pinot bianco. Training System: Guyot e Pergola. Vine age from 10 to 40 years.
Harvest: mid to end of September; harvest and selection of grapes by hand.
Vinification: The majority (85%) is fermented in stainless-steel tanks and the remainder in oak barrels, followed by malolactic fermentation. The two wines are blended in February. Grape yield in wine: 60 hl/ha.
Alcohol Content: 13.5 %
First vintage produced: 1982
Serving temperature: 8-10°C
Storage potential: 4 to 5 years
Suggested food pairing: A premium aperitif and summer wine, it is also quite versatile when it comes to food pairing: it goes well not only with seafood and fish but also with delicate dishes made with wild fowl. It is especially recommended as an accompaniment to South Tyrolean Schlutzkrapfen (with cheese).
THIS RECIPE IS OFFERED BY CANTINA PRODUTTORI SAN MICHELE APPIANO
Related Products