Spelt-flour fettuccini with a pistachio pesto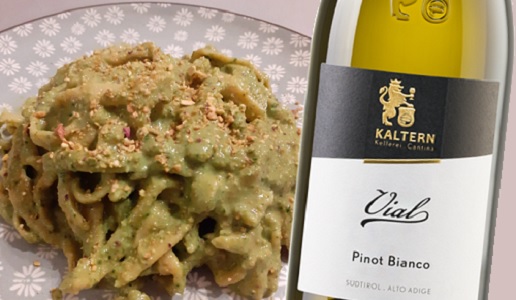 We pair this intriguing recipe from Chef Matteo Giudici with an Alto Adige Pinot Bianco Vial 2020 Kaltern Kellerei Cantina.
Ingredients for 4 people:
For the pasta: 200g spelt flour, 100g 00 flour, 3 whole eggs, 2 egg yolks, 1 tablespoon extra-virgin olive oil and a pinch of salt.
For the sauce: 200g pistachios, 100g fresh basil, 2 garlic cloves, 150g extra-virgin olive oil, 100g sparkling water, 100g pecorino cheese and 1 abundant tablespoon ground pistachios.
Directions:
For the pasta: Sift the flours and create a mound. Put the eggs at the center of the mound with the EVOO and salt. Use a fork to mix the eggs and EVOO into the flour then knead until you have a uniform dough.
Wrap the dough in clear plastic wrap and let it sit in the refrigerator for a couple of hours.
Roll out the dough using a pasta machine (or rolling pin if you prefer) so it is not too thin and then cut out the fettuccini.
For the pesto sauce: Shell the pistachios and put them in a minipimer together with 2 garlic cloves, the basil, the EVOO, pecorino, sparkling water and blend until you obtain an homogenous and soft pesto sauce. Put the pesto in a large bowl.
Boil the pasta in abundant salted water, drain and transfer to the bowl with the sauce. Delicately and swiftly mix the pasta with the pistachio pesto (add some of the pasta water if necessary). Garnish with the ground pistachios.

Wine to pair:
(edited by Stefania Vinciguerra)
Alto Adige Pinot Bianco Vial 2020 Kaltern Kellerei Cantina
Brilliant straw yellow color. Nose of pears and ripe Golden Delicious apples, with undertones of flint and hazelnuts. A fruit-dominated palate, with a delicious, balanced acidity, lingering finish.
Production area: East-facing slope vineyard at 500 to 550 meters above sea level. This vineyard, located at the foot of the Mendel Mountains, has optimal conditions during the ripening period for fruit-focused white wines. Sunny days, which are not too hot, and cool nights, which build fruit character and preserve acidity; loamy conglomerate soils with chalky gravels and porphyry sand.
Grape variety: 100% Pinot Bianco, 10 to 30 years vines, Guyot training system.
2020 vintage: A relatively mild winter was followed by a dry March and a dry and warm April, and flowering set in somewhat earlier than usual. There were no long heatwaves in the summer. In spite of this, the head start in the vegetation cycle became shorter and shorter up to the harvest, and the first grapes were harvested at the beginning of September, with the last load reaching the winery on October 9.
Vinification: Whole-cluster pressing of ripe and healthy grapes, natural must clarification, slow fermentation at a controlled temperature of 16-18 °C (20% in the large casks), 6-month ageing on the fine lees, filtration and bottling in April.
Alcohol content: 13.5% vol.
Serving temperature: 10-12°C
Suggested food pairings: This wine pairs well with light appetizers, fish dishes and can be drunk also as an aperitif.
Related Products