Spaghetti Milanese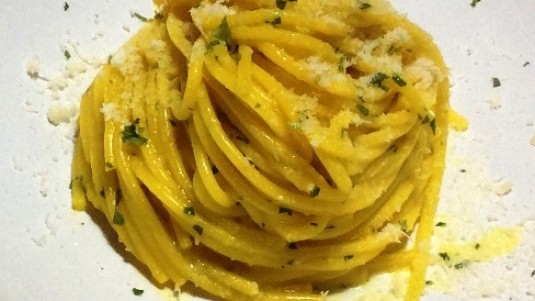 Ingredients for 4 people: 
400g Gragnano spaghetti, 40g white onions, 80g butter, 40g bone marrow, 1 demitasse cup of dry white wine, beef broth as needed, a teaspoon of grated lemon peel, 1 tablespoon of chopped parsley, 2 packets of saffron + 20 saffron pistils and 50g grated Parmigiano Reggiano DOP.
Directions: 
Put the bone marrow in ice water for a couple of hours then dry it with a paper towel and crumble it. Stew the marrow at a low heat for around 20 minutes in a pan together with half of the butter, chopped onion, a ladle of broth and the demitasse cup of white wine. Blend everything with a mixer and keep the sauce aside.
Boil the spaghetti in salted beef broth until it is 'al dente' and then drain and finish cooking it in a broad pan together with the marrow sauce and the saffron. Remove the pan from the heat and mix in the rest of the (cold) butter, the grated lemon peel, Parmigiano and parsley. Salt to taste.
Serve with grated Parmigiano and chopped parsley sprinkled on top.
Wine to pair: 
Anni Toscana Bianco Igt Tenuta Sette Ponti 
In an area historically known for world-class red wines, this new white wine is the result of a painstaking research into soils, suitable exposures and the appropriate grape varieties.
Straw-yellow with gold highlights. Notes of citrus and peach, which beautifully infuse the palate as well. Smooth and supple in the mouth, with a zesty acidity.
Production area: Castiglion Fibocchi (AR) in Central Tuscany. The vineyards are about 20 years old, high density, East exposure, spurred cordon trained, located at 250 meters on the sea level. Soil characteristics: clay-rich chalk, with abundant pebble.
Grape varieties: Sauvignon Blanc and Viognier.
Yield per ha: 4 tons.
Production System: cool maceration and controlled-temperature fermentation. Aging 5 months in stainless steel tanks.
Alcoholic Content: 12,5%.
Serving Temperature: 8-9°C
THIS RECIPE IS OFFERED BY TENUTA SETTE PONTI